LETTERS – Older Motion Pictures EP
aaamusic | On 14, May 2012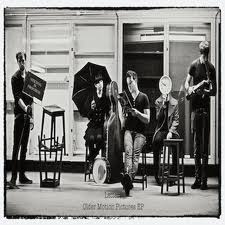 Letters are an indie quintet from Edinburgh with a reputation for dark, timeless and melodic music.
Letters comprises: Ed Ellis (Guitar/Vocals), Mikey Ferguson (Guitar/Vocals), Georgie Williamson (Cello/Vocals), Dougie Fuller (Bass) and Kerr Donaldson (Drums).
Their debut EP Older Motion Pictures is released through God Is In The TV Records on the 19th May, 2012. This is the follow up to the recently released single The Halfway House.
Explosions is a powerful instrumental rock number with a fast rhythm. In Older Motion Pictures the typically warm and distinctive vocals enhance a song with a strong gothic and cinematic feel. A mature and beautiful cello sound can be found in Torren and some will find growing emotional maturity in the final track From Time To Time.
Fans support what they see as a great band that leaves with you with a haunting feeling of restlessness and unease that doesn't go away. They feel the songs are urgent and moody and that the band is exceptionally gifted and impressive at what they do.
But some critics seem to find Letters mediocre and just can't see any depth, inspiration or atmospheric intensity to the music. Please give this EP a little of your time and decide for yourself.
Anthony Weightman