WIN GUEST LIST TO THE LAUNCH DEBUT CLUB NIGHT 'BOP! CLUB!!
aaamusic | On 09, Jul 2012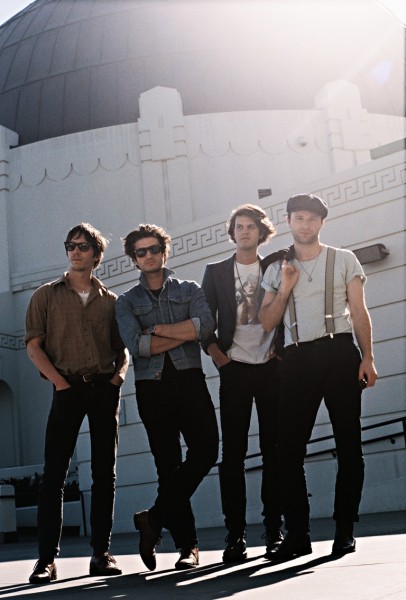 London based indie pop band The Tricks will launch their own club night 'Bop! Club' on Wednesday 11th July at Hysteria in East London and will release new download only single 'Part Time Lover' on 8th July.
For your chance to win guest list for this event, all you need to do is emailing win@aaamusic.co.uk with your name and the name of your guest. Hurry up! Entries close Tuesday 10th at 8pm. Good Luck!
Formerly The Junction Room, the newly named and refurbished Hysteria (578 Kingsland Road, Dalston, E8) will host 'Bop! Club' every month starting from 11th July. The club night, which is "an organized social occasion", will be free entry running from 8pm-1am and is set to be a night for those who like to dance to pop, rock & roll, indie and northern soul. The launch night will feature a performance from the hosts themselves, The Tricks, along with djs The Original DJ Dave, Hashtag DJs and Mens Adventures.
The Tricks will be releasing a download only single every month to coincide with the monthly club nights and these will then be featured on an EP which will be released in October. The  first release will be the track 'Part Time Lover' which will be released on 8th July and will be the follow-up to the bands debut Double A-Side single 'Just For The Summer' / 'Remember Me' released in February this year. 'Part Time Lover' is an addictive melodic pop song that starts slowly before launching into a fast-paced catchy chorus full of electrifying guitars and immediate vocal harmonies.
The Tricks are Brothers Joel Hodge (lead vocal/bass) and Ash Hodge (drums), John Bisset and Eliot Crabtree (both guitars). The four friends grew up together in Hertford and after stints in other bands formed The Tricks just over two years ago. After establishing themselves gigging around London, The Tricks caught the attention of US label Unison Music Group and were flown to LA to record demos and then later their debut album with Grammy nominated producer Bruce Witkin.
Along with their regular club nights, The Tricks will continue to perform headline shows across London and the UK and a full list of tour dates and upcoming club nights are listed below.
June:
Sat                   30th                  London                        Cherry Cola @ Purple Turtle
July:
Sun                  8th                    Brighton                       Green Door Store
Weds               11th                  London                        Bop! Club night @ Hysteria
Sat                   21st                  London                        Testival @ The Garage
August:
Thurs               9th                    London                        Bop! Club night @ Hysteria
September:
Thursday         13th                  London                        Bop! Club night @ Hysteria
October:
Thursday         11th                  London                        Bop! Club night @ Hysteria
Links
Twitter  #BOPCLUB