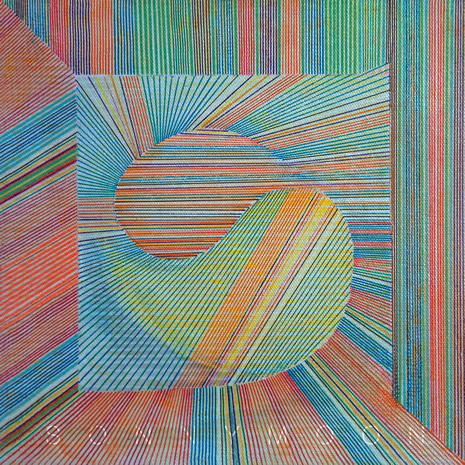 A long time ago, in a galaxy far, far away I had the pleasure of reviewing the benevolent planet Sonnymoon's brand new celestial aural transmission, broadcast Earthwards to spread love, togetherness, and buzzing basslines. The eponymous debut album, recently released by the cosmic body (or the duo of Anne Wise and Dane Orr for us carbon-based life-forms) was to me a revitalizing and disarming experience. The Boston-based pair have thrown us a moonrock curveball to keep us on our toes. Like the sound of tantalizing prog-RnB experimental indie-synth? No, I'm not sure it's a legitimate genre or if I made it up, but nonetheless, if you've become a little too settled into your musical comfort zone, Sonnymoon promise to shake things up.
And shake it does. 'Wild Rumpus' revs up the engines of aural absurdity, overloaded with loops galore. Almost accapella, simultaneously a chorus, Wise's vocals whisper over an equally tribal, equally eerie track, pulsing with RnB club beats and quirky dissonant keyboard loops. Disjointed a little, maybe, but its damn fun.
The pounding don't stop with the more conventional and coherent sound of 'Greatness'. More compelling vocal work swathes over spacious swirling sample loops to create a constant and captivating fusion of static interpersonalism and vast sweeping movement. Honourable mention goes to the awesomely subtle envelope-filter bass line, which I would have loved to have heard more of in the track.
Throughout the album, its poetical cautionary messages in the spirit of togetherness can have you torn between feeling uncomfortable and downright lovely. Turn off your cynicism; any proselytization is done in a lyrically and thematically commendable way, most importantly remaining loyal to the music.
The next track '∞' (took me 20 minutes to figure out how to type that – Thanks for that, Sonnymoon) is just brilliant; a rhythmic eastern-tinged smoky-space-groove-out. Sitars twang and echo over warbling synth loops on a sea of thick bass. Just beautiful. Maybe I got carried away, but I feel that interspersed across the album are the germ of little sparks of creative genius the captures and creates new spirit, crafting shades of tempo-cultural brilliance that echoes late 60's experimentalism. George Harrison would be proud.
More sparks leap from 'Kali', a spookily sombre, moonlit number, strikingly organic at this point in the album; a refreshingly natural bass guitar throbs beneath bursting-pattering freestyle drums, twisting together a brilliantly simplistic jazzy sojourn, the ghostly lounge-lorn choral vocals sparkling in their icy simplicity. And one of the best things about the album is suddenly apparent; Wise's voice, inherently organic in nature, is utilized just like the ammunition it draws from its armouries of synth; while the lyrics do contribute considerably to the overall tone of each track, oftentimes the vocal work generates as much pulse and dynamism as any fuzzed out bass line or electronic eccentricities.
This holds true for the next track 'Watersboiled', floating in in angular fashion, accompanied by high-frequency blips and regular staccato lo-fi bass-buzz. The tribal, communal chanting undertones are particularly strong here, giving you the feeling that, if you're listening alone, you're missing out on something. 'Flit, Fleet, Float', gives us more of earlier shades of the album, with smooth synthetic bass, atavistic percussion, and vocal work that treads the line blithely between the inhibited, the tentative, the harmonious, and the nightmarish. It's strange to think that by the misty opening of 'Nothing Thought' that you perceive the thin growling rotary popping and stilted, glacial notes that echo into the track whenever they feel like it as something really quite elegant. Repeating feedback loops, cringe-inducing tactile sound effects, and an air of swirling dejection; by virtue of its nature as an experimental work, some of the demented peculiarities prove themselves to have some very cool effects on you as a listener.
'Universal Appeal' floats over like clouds of silk, almost without incident; the vocals and lyrics stands out here, but it also serves as an example of how the cornerstone of fuzzing bass on the album can stray in forgettable territory sometimes. But, if you zone out, the eerie, juvenile spite of 'Others by' will wake you up. Subtly destructive and amusical, it harbours an anarchic spirit of a level not found elsewhere on the album. However, despite its deconstructuralist motifs, it still somehow fails to really grab you as it floats on by.
So around this point I started to feel that the album sinks into a bit of a quagmire transitioning into the second half. Maybe this is what was intended, but it lost something for me. 'Zone 2', though a little creepy with cool vocal experimentation, was over before I'd realised, and 'Every Summer Night', while more of a stand-out track than its neighbours with its upbeat bass and shaky percussion, doesn't seem to lift the album back into the air. The later tracks just don't seem to have the colour and personality of the earlier ones.
The final track 'Just Before Dawn' is an exercise in simplicity to the extreme. A vocal showcase reminding us why we're here, it is followed by a fitting subtle outro, bringing together the composite elements that made the album enjoyable; the tribal, tactile collectivist handclapping, the unique and elegant sense of harmony, the airy vocals, and retro 'high-score' Space-Invaders dialtones.
An important thing to note here is that this is an experimental album; you've got to commend them for trying this stuff – not many people are – and some of it works – brilliantly. Other parts are a little less stellar, but those tracks do gel together as quite a trip, a real change of pace on the album (and maybe better taken as a whole). There are genuine moments of brilliance in its prog-RnB vibe; its fusion of earthy, human atavism, and chaotic digital entropy is quite unlike anything I've heard. It doesn't feel overcrowded, which is so often heard in albums like this, which would have killed what it does so well. Those moments of Sgt. Pepper-esque madness thankfully aren't drowned out by overzealous, trigger-happy overdubbing. But most importantly, Sonnymoon prove they've got a sound unlike any other, and thank God someone is furthering this genre – I'd much rather hear this in a club than the usual base, libidinous misogynist offal we get subjected to.
Matt Fellows