Sadie and the Hotheads – Live @ The Union Chapel
aaamusic | On 22, Feb 2013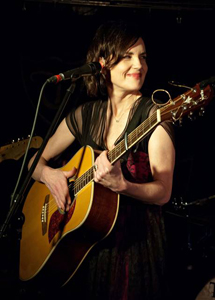 London, 17th February.
American film, television, and theatre actress Elizabeth McGovern plays the
serene and confident Cora in the highly successful TV series Downton Abbey. As
a singer songwriter she began fronting the band Sadie and the Hotheads in 2008.
Elizabeth sings lead vocals and plays acoustic guitar with Simon Nelson (guitar/
vocals,) Steve Nelson (bouzouki/vocals,) Ron Knights (bass,) Nick Lacey (piano,)
Terl Bryant (drums,) and Philly Lopez (backing vocals). From her current
album How Not To Lose Things she sang songs about her personal experiences
in this inspirational setting surrounded by beautiful and unusual Gothic
architecture.
Elegantly Elizabeth danced to the microphone. She joked about LA Days, a song
about her past life in Hollywood, a place that she managed to escape from. All
The Time was written about the love for her husband, English director Simon
Curtis . She confessed that she didn't know How Not To Lose Things and in
Drops Of Rain became a devoted mother watching her children at swimming
galas. In My Debt Collector she sweet-talked a repossession agent with the great
line "I've got great legs but as you may know I've got a rather big arrears."
The evening was a warm, fresh and enjoyable mix of blues, country, folk
and rock 'n' roll supported by Elizabeth's lively band of highly professional
musicians. A quirky and mischievous charm emerged and her songs were honest
and unpretentious.
I once interviewed Elizabeth and we shared a silly fantasy about the late Dudley
Moore, who once acted with her. Wouldn't it be great if he could do a guest slot
with Sadie? "Oh my god. Nothing would make me happier!" she replied.
Anthony Weightman.