Primavera Sound reveals 'Primavera Als Clubs' programme
aaamusic | On 28, Feb 2013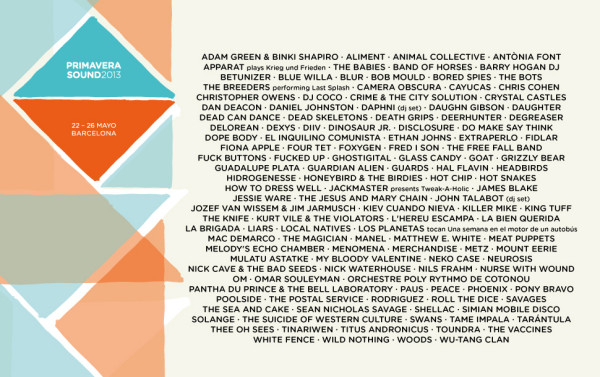 Pantha Du Prince & The Bell Laboratory will present their collaborative album in the Parc del Fòrum
Primavera als Clubs will kick off on May 20th in the Apolo with a concert by Spectrum, who are currently touring with their show "Songs The Spacemen Taught Us" (in which they play tracks by Spaceman 3 and Spectrum) and the concert by the Valencia band,Jupiter Lion with their powerful kraut rock. On Tuesday 21st the Apolo will tremble with the live concerts of the British band Godflesh, an institution of industrial metal, the Japanese band Bo Ningen and the Catalans, Foscor.
On Wednesday 22nd May, as a complement to the free concerts in the Parc del Fòrum, in the two rooms of the Apolo there will be live concerts by the unstoppable John Talabot and the day-time disco duo from California, Poolside, a Dj set by Al & Felix (Hot Chip) and concerts by Veronica Falls, Parquet Courts and Cheatahs.
Sunday night 26th May will be the closing day in both of the Apolo rooms and, for the first time this year, in the nearby BARTS (formerly Sala Arteria Paral·lel), where the label Acuarela will celebrate its 20th anniversary with performances by Come, Julie Doiron,The Orchids and an acoustic set by Sr. Chinarro. At the Apolo there will be a concert by one of the best loved bands of the festival: the Americans Deerhunter, who will be accompanied by Allah-Las, Merchandise, Miquel Serra and a session by The 2 Bears. And in La [2] de Apolo, The Haxan Cloak, a project by the label Tri Angle, will share the stage with the Barcelona bandVactor, a new project by Arnau Sala (The Cheese, Les Aus).
On Saturday 25th May the show by the German producer Pantha Du Prince together with The Bell Laboratory, joins the Parc del Fòrum programme. It is a show in which Hendrik Weber's electronic rhythms are accompanied by an infinite number of percussion instruments including a 50-brass bell carillon. The Huesca band Kiev Cuando Nieva will also be on the main site of the festival, as well as the new electronic music from the Catalan band Headbirds, who will play on Friday 24th and Saturday 25th May.
Monday 20th May
Sala Apolo: Spectrum + Jupiter Lion
Tuesday 21st May
Sala Apolo: Godflesh + Bo Ningen + Foscor
Wednesday 22nd May
Sala Apolo: John Talabot live + Poolside + Felix & Al (Hot Chip) Dj Set
La [2] de Apolo: Veronica Falls + Parquet Courts + Cheatahs
Sunday 26rd May
BARTS: Come + Julie Doiron + The Orchids + Sr. Chinarro
Sala Apolo: Deerhunter + The 2 Bears + Allah-Las + Merchandise + Miquel Serra
La [2] de Apolo: The Haxan Cloak + Vactor
All the programme of Primavera als Clubs is free for those who have a Primavera Sound 2013 full festival ticket in Barcelona (subject to the capacity of each venue)