Buzzard Lope – Live @ The Finsbury Pub
aaamusic | On 12, Jun 2013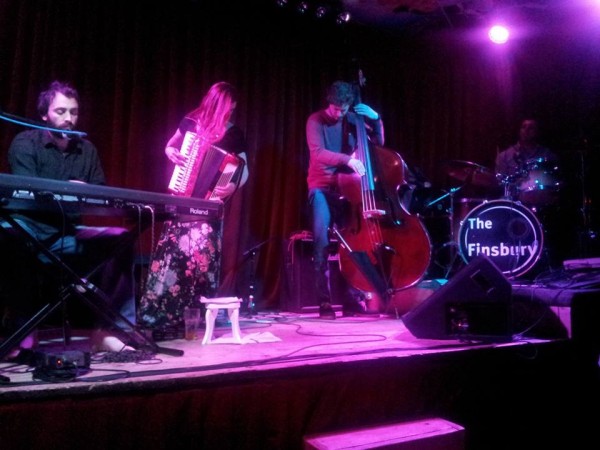 Sunday 9th June
Writing a review is more complicated than it looks like; it's basically translating music and feeling into words. A writer will find bands along the way that will make the task easier or more difficult. But personally I think the best bands are those that leave me speechless, and trust me it's not an easy job. This happened last Sunday at The Finsbury Pub when Buzzard Lope got on the stage.
They played several tracks from the upcoming album Pyrrhic Victories, due in November. The trio was joined on stage by Gill Sandell playing the accordion.
The band opened with 'Peak of Evolution' from the upcoming album, a rhythmic tune, fusion of jazz and blues accompanied by Sandell's accordion that gave the song a touch of folk.
'Walk Don't Run' hits by surprise, you couldn't see that coming. Roger Illingworth, the singer and main composer of the band, went up and down with his voices reaching high pitches and then going to a lower and deeper tone.  Illingworth didn't only play with his voice, he was possessed by the music; he literally bounced up and down on his stool behind the keyboard, his leg thumped against the floor following the beat of the song and his eyes were closed. He released all his energy which came out unleashed and pure. He looked completely submerged in the world created by the music and the lyrics.
The band went back to slower and evocative tunes like 'Union' and 'East by East', songs that surprised you at the last minute growing into two orchestral pieces.
Trying to draw a pattern of this gig was almost impossible; Buzzard Lope were all over the map with their songs: a mix of pure jazz, soul and pop.
The crowd was completely taken by the magical and dramatic atmosphere created by the band, awaken only when the music finished; always ready to burst in loud applause.
Monica Guerrasio