HAUSCHKA – Abandoned City
aaamusic | On 01, Mar 2014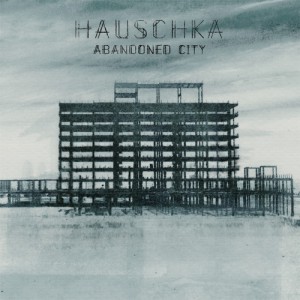 Derelict buildings, shaky ruins and forgotten concrete skeletons. The altered notes played by a prepared Bechstein upright grand piano, weave and erect their structures in empty spaces, dramatic scenarios, almost apocalyptic environments. Abandoned City, the first Hauschka's album for City Slang, is the outcome of a study; a project meant to understand and render in music the atmosphere of deserted built-up areas.
Entirely recorded in the German composer's home-studio in Dusseldorf, the record is a collection of wrecked cityscapes envisaged and arranged in the course of only ten days. Every chapter portrays a ghost building, neighbourhood, or a whole town. From the remote and surreal Norwegian whaling station of 'Stromness' on South Georgia Island, to the otherworldly 'Sanzhi Pod City' in Taiwan; from the Chinese artificial duplicate 'Thames Town' to the dead perched village of 'Craco' in Italy, the nine original compositions instill a lonely and gloomy mood able to depict the gist of those places. Places with no future and inhabited, today, only by their past, by their memories and by silence.
As the artist described: "Abandoned cities are romantic, but also tragic, exuding a hint of human temporality. […] People once lived there, but they left in a rush and now nature has taken over in a beautiful way, things are growing up from the sidewalk and the seasons are changing colors".
The work, thanks to its striking and evocative drive, can be easily defined as a soundtrack: a musical score for a documentary about those 'once were cities'. Its atmospheric character, its identity on the edge between avant-garde and classic music vividly sketches nine distinct portraits of such diverse realities.
Realities, which are also a metaphor of the composition process developed by Hauschka: "The music is dark, but in a quiet, uplifting way. The piano is singing the melody but, because of the effects, you can't hear it directly. It's like the sound of a choir under the earth, something you feel without realizing it."
And it's indeed the prepared piano the leading actor of the project; the direct heir of the century old instrument, recently perfected by John Cage, is the only interpreter of these impressions. The objects inserted between the piano's strings adulterate, twist and deform the timbres producing unique structures. Soundscapes which perfectly embody the post-nuke remains of the Ukrainian city of 'Pripyat', or the ghostly profiles of the Namibian mining town of 'Elizabeth Bay'.
Marco Canepari