Primavera Sound 2017 – Live Review
aaamusic | On 16, Jun 2017

Even with the news of Frank Ocean pulling out a week before the 16th edition of Primavera Sound, it didn't dampen the electricity of the musical utopia. With the Barcelona sun shining down and it's mammoth line up boasting some of the biggest acts from around the globe across rock, alternative, electronic, hip hop and the latter, it more or less became a second thought. Well almost. Until it came to Jamie xx's set in the early hours of Saturday morning as he wilfully opened up with 'White Ferrari' and closed out with 'Nikes' from Blond, amidst a gallant set that consisted of a selection tracks off his debut In Colour. Though people's sighs at these nods to Mr Ocean's absence was saturated in resentment, it offered necessary closure.
Just like the noticeable influx of British folks in the crowds, so was the takeover of the UK artists killing it in the lead up to and over the official four days. Rising London band Formation, set arts venue BARTS alight with their cool disco grooves, which were made to move your hips to, whom were followed by a specially curated set from Ninja-Tune signee Romare. Playing his compositions of cut up vocal samples, blended with disjointed jazz and world instrumentals built up live on stage underneath the iridescence of a purple light.  Metronomy dazzled on Mango, one of the two main stages opposite each other on site. They take the audience and me on a journey of their finest hits predominantly from The English Riviera such as, 'Corrine', 'The Look', The Bay', in addition to 'I'm Aquarius', 'Old Skool' and 'My Heart Rate Rapid.'
Before speed walking drastically from Arcade Fire to Pitchfork stage on the opposite end of the site, then back again in hope I haven't missed 'The Surburbs' (which I do), I catch a bit of King Krule. His husky South-London vocal ever so prominent on 'Cementality', it's worth the mission as he plays a stirring new number I miss the name of. Later Skepta's appropriately placed 01:55 slot, unleashes the raw riddim everyone has been waiting for. The Mercury-prize winner had the honour of debuting grime at Primavera since its very inception in 2001. A feat highlighting the force of a genre, that was once held out of the mainstream arena, but succeeded nonetheless in rising back up to now entertain an international assembly of onlookers in their tens of thousands. Unrelenting in his track list, each bar, each flow engulfs the rowdy crowd as circle pits clash, someone's bag is ripped clean in half and the hype is taken to exponential levels with 'Man', Lyrics', 'Shutdown', old school numbers  'Ace Hood Flow' and Boy Better Know's 'Too Many Man'. It's a moment of pride to say the least. Nevertheless it's Sampha faultless performance on the Friday evening at the glorious Ray-Ban stage, which soars in magnitude, sound, emotion possessing as much heart as it does on Process and earlier EPs. He approaches each track with poise and mediation that is lovingly appreciated by the vast sea of bodies present. It's one of the biggest audiences I witness all weekend besides the headliners, before he ends with '(No One Knows Me) Like The Piano'.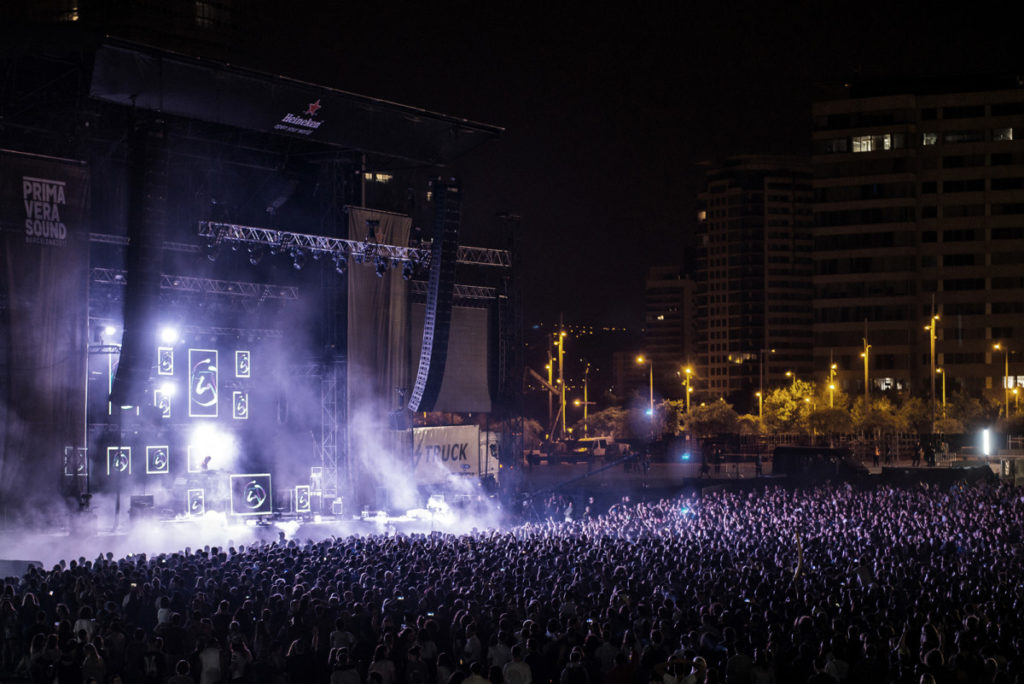 With a brunt of the focus placed on electronic music this year, there was a generous abundance of acts of across the spectrum . Techno pioneers Recondite and Bicep both threw down the gauntlet, incorporating all-consuming background visuals heightening the euphoric sensation of their compositions as they reach the monumental climax. Kelly Lee Owens, Tycho, Flying Lotus, Talaboman deliver the more delicate sides of electronica. Wavering between dulcet glitches, soaring synths and instrumentals to adding burgeoning layers of sound and dimensions. As one of his only six and first appearances of 2017 Apex Twin played his hardest experimental tracks, flowing somewhere between the industrial, noise and fragments of broken beats. All synced to trippy visuals and camera effects on the big screens that distorted people and placed Richard James' sellotaped dishevelled face on unsuspecting spectators. Making for an extremely intense performance which took some time to process.
Due to the phenomenal wealth of artists on the timetable, there was an abundance of musicians that rose to the occasion. Delivering nothing less than 100 Miguel's sultry vocals and sexy vibrations of 70's guitar riffs owned the Heineken stage. His electrifying performance had him running and jumping from side to side, giving everything he possibly could filling part of the quota for alternative r&b with 'Adorn', 'Waves' and many others. Slayer opened up a hellish mosh pit, causing unbridled carnage as they played their most heavy hallowed tracks 'Angel Of Death' and 'Raining Blood'. Throwing in plenty of guitar posturing and shredding riffs, I bask in the epicness of having the opportunity to see them in settings against the backdrop of an ocean.
Between the slapstick awesomeness of Mac Demarco, setting his body hair alight as the finale and Haim's surprise appearance on Ray-Ban after Skepta, the true spectacle of the weekend was Solange. Returning last year with A Seat At The Table, with a whole new concept in toe and direction- the artistry channelled into the live performance was everything. Including choreography, to emphasise the movement and rhythms in the music. Opening with 'Rise' against a mighty pounding of drums, that exceeds the already growing anticipation in the air. 'Cranes In The Sky' gleams with elegance, radiating nothing but grace as she moves her body thoughtfully to accentuate the power of each word sung and forms a line with her band for 'Mad' , moving in tandem as a unit. 'FUBU' is an empowering moment and celebration of blackness, as she exits the stage to sing directly and interact with black members of the audience. It's a special moment, but some sums up the importance of albums which open up necessary dialogue about the discrimination people in minorities face from blunt racism to microaggressions. She concludes and sums up those feelings up with 'Don't Touch My Hair' for her encore.  
Taking in account the last-minute changes, Primavera Sound 2017 didn't disappoint. Everything about the festival from the location, stage set-up, relaxed atmosphere and sheer organisation makes it a festival I would never hesitate to go back to. After visiting for a third time, I can safely say it's my favourite festival. If you haven't been already, get that early bird ticket booked for 2018 and you'll certainly have no regrets.
Lois Browne