The Church Presents 'A Weekend Crusade' – Live @ Bush Hall
aaamusic | On 26, Jun 2018
Saturday 16th – Sunday 17th June, London
Following on from their brilliant opening night sell out performance at the 2018 Meltdown Festival, supporting Psychedelic Furs at London's Southbank Centre as part of Robert Smith's selected line-up, psych rock veterans The Church held two full days of musical activity with a one-off weekender at Bush Hall in Shepherds Bush
Firstly, who are The Church? The Church are an Australian psychedelic rock band formed in Sydney in 1980 by Steve Kilbey and Peter Koppes. Initially associated with new wave, neo-psychedelia and indie rock, their music later came to feature slower tempos and surreal soundscapes reminiscent of dream pop and post-rock. The Los Angeles Times has described the band's music as "dense, shimmering, exquisite guitar pop". In his lifetime Kilbey has published some 750 songs and the band has produced 26 albums plus numerous compilation albums
The weekend included a packed daytime programme with the band members performing seated solo shows with special guests both afternoons. What better place to hold this event in the beautiful 1904 built Bush Hall. Originally a dance hall, but now an intimate independent music venue holding 250 seated and 400 people standing
The organiser Trevor Boyd introduced Steve Kilbey onstage for an acoustic solo set and a great way to start the weekend with his sublime lyrics and dry wit.  Jeffrey Cain (ex-Remy Zero and now a semi-permanent member of The Church) later joined Steve playing a few Isidore tunes with him albeit with song sheets printed from the internet which were not always correct to the amusement of the audience
The newest member of The Church, guitarist Ian Haug was next doing his first ever solo set. He was a little nervous at first but warmed the audience with a lovely rendition of The Go-Betweens "Finding You" and dedicated it to the brilliant Grant McLennan who died too young. He finished his set with Neil Young's "Cortez the Killer" and proved that he is an essential new element to the band.
Onto Saturday teatime and the warts and all documentary "Something Quite Peculiar" was screened followed by q and a with director, Mike Brook and Steve Kilbey present. The film portrays the life and times of Steve and is essentially about his turbulent relationship with the bands sole hit single "Under the Milky Way".
The Saturday evening performance consisted of a special anniversary show highlighting selections from two of the bands most popular albums STARFISH [30th anniversary] and HOLOGRAM OF BAAL [20th anniversary] and then a second set of other goodies. The band were on fire right from the start and Kilbey's movements and flexibility for a 60+ year old were remarkable, Peter Koppes and Ian Haug's guitar interplay was brilliant and unlike the Meltdown support slot the previous night they played for some 2 ½ hours instead of 40 minutes allowing time to really expand their sound and to not hold back. During the Meltdown set I was practically in tears throughout as I love the band that much, but tonight I was over that emotion and just revelled in it all.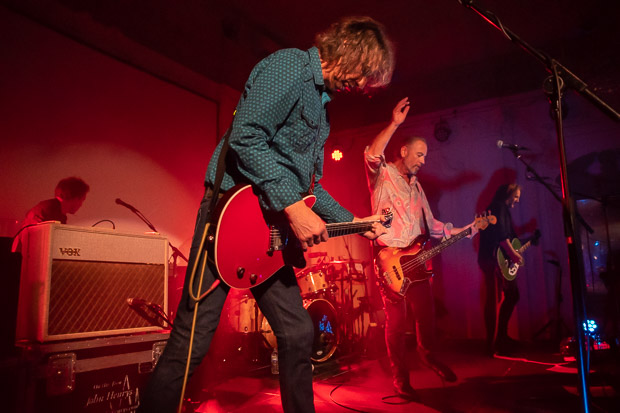 The Sunday congregation started in a relaxed fashion with a screening of A Psychedelic Symphony filmed at the Sydney Opera House with George Ellis and his orchestra plus a "making of" short film. It seemed like it was a very stressful time for the band to do this, but here they are today with a whole weekend of entertainment, especially as some of the members have never performed solo ever before!
Next was drummer Timothy Powles set who sometimes goes by the moniker "timEbandit" or "Tygs in Space" and as well as a drummer he is a producer and artist in his own right. Using a laptop and a wealth of other instrumentation and effects his set was a wonderfully unorthodox cocktail of soundscapes and psychedelia.
Kilbey and Amanda Kramer (Psychedelic Furs) entered the stage and played next and this was a blissful set and blew away any hangover effects from the night before. They were joined by Frank Kearns (Cactus World News) for some Speed of the Stars tunes, another exclusive first with Steve on Acoustic and Frank on electric guitar
Peter Koppes finished the weekends solo sets with a Chronological run through his Church penned songs and all on piano. This was one of my favourite sets of the weekend and was again quite personally emotional and pulled at the heartstrings.
Sunday evening saw an exclusive as The Church played their seminal work THE BLURRED CRUSADE in its entirety for the first time ever in the UK.  This whole set was the best I have ever witnessed in the 10 something times I have seen them. It was breath-taking, blistering, emotional, life-affirming and it absolutely certainly felt good to be alive and witness this historic performance. The second part of the set, at times was almost punk rock with faster versions of "Constant in Opal" and the timeless live classic "Tantalised".  Kilbey at age 62 was acting like a 22-year-old with his dynamic stage presence and knee bending techniques; Koppes, usually reserved, was animated and very energetic; Haug just got on with playing his danelectro guitar and certainly fills the gap left by Marty Willson-Piper and filled his boots totally!
In summary a dream weekend come true for devoted fans of the band and hopefully this underrated band got some new fans too. They are back in November for some shows with Fields of The Nephilim so catch them if you can.
Nige Nudds