AAA Music Approved: Kris Angelis
aaamusic | On 07, Mar 2021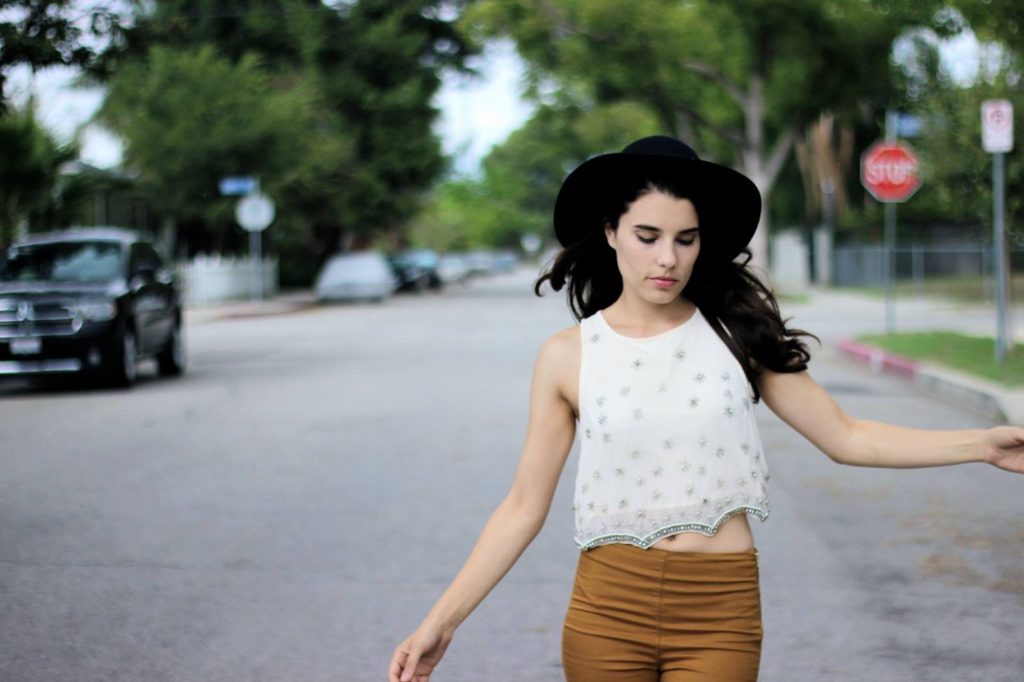 Who are you and where are you from?
I am Kris Angelis. I was born and spent my childhood on a farm outside of Gainesville, Florida with a brief time on an Air Force base in Illinois across the river from St. Louis. Then my family and I moved to Monterey, CA and then I moved to Los Angeles initially to continue acting and slowly became totally focused on music. 
What inspired you to get into music?
I loved listening to my parents' and grandparents' records and we lived so far out in the country that we didn't really have TV so we watched a lot of old musicals that my grandparents had and I'm sure that had an effect. I got into singing in church choir and then into musical theater summer camp in CA. When I discovered the band Hanson, that was the first moment I realized that being a musician was something that maybe I could do. I was inspired by how young they were. That's when I really started learning to harmonize with my twin sister. The other biggest catalyst toward my becoming a singer/songwriter is really full circle because I heard and met them when they were opening for Hanson. It was Brandi Carlile and her bandmates Tim and Phil Hanseroth. I was mesmerized by the pure emotion in their music and realized that I could pour my feelings into songs. Tim actually gave me a guitar that I played for many years until it was sadly stolen on my way home from tour. I've learned a ton from them. Other influences include Gregory Alan Isakov, Sara Bareilles, Simon & Garfunkel, Rachael Yamagata, Katie Herzig, Regina Spektor, Ray Lamontagne, and so many more.
What have you done?
I ask myself that same question almost every morning! ;) I have been told that my music has helped people through hard times whether it's the sad ones that make people feel seen or give them an outlet for their feelings or the occasional happy one that makes people feel like there's hope and they can dance and sing along. I personally booked and performed in all 50 states in about 6 months in 2019. I released a full length album "The Left Atrium" in 2013. Then, due to funds and the new music business model, I have released a number of EP's: "Heartbreak Is Contagious" in 2017 which earned Best Female Artist in the International Acoustic Music Awards, "Pieces That Were Stolen" in 2018 which had a song in the finals of the USA Songwriting Competition and a music video that won 3 awards in the International Independent Music Video Awards, "That Siren, Hope" in 2020 which debuted at #1 on the iTunes singer/songwriter charts and as the highest ranking independent release that week on the Billboard Top New Albums chart at #79, was on the Americana Radio charts for several weeks and was on the Grammy ballot. I've released a number of singles and holiday songs as well, getting to collaborate with some great artists and producers including Morgan Taylor Reid, Billy Lefler, Abe Abraham, Garrison Starr, Adrienne Gonzales (The Rescues), and Dov Rosenblatt (Distant Cousins).
What are you like live?
Generally it's just me and my acoustic guitar although I love playing with a band when I am able to! I am lucky to be friends with some very talented musicians! I sing sad songs interspersed with sometimes funny stories about how they were written or experiences I had on tour. Gotta have balance! I think the most notable tour I did was when I played in every United State in about 6 months. I drove myself around as a one woman show and crew in my little blue Prius. I have done other tours with Vermillion Lies and my friends Lyndzie Taylor,  Mallory Trunnell, and Lauren Harding (Crimson Calamity) who you should all listen to! I have also had the pleasure of being a part of the Songs and Whispers tour in Europe twice! 
What makes you different?
That's an interesting question to try to answer myself and I really should try asking my fans but I guess its that I'm Kris Angelis and no one else is. Not even my twin sister. I know that may sound snarky but it's not meant to be. I write mostly love songs which people have been doing for thousands of years – that's not new – but I put the words together in a slightly different way or context than anyone has before and some people resonate with that. I'm really curious what specifics people would point to. Can we ask them to answer??
Physical vs Downloading vs Streaming…How do you listen to music?
I think streaming is great for music discovery and can help to widen the audience of artists who are able to get on playlists. It is frustrating though as it made it very difficult to make money from the product that we make (the music) Physical formats made it so that each person who wanted to listen had to purchase one and it was a thing you could hold that people didn't feel weird spending $10 or more for. Now that pretty much all music is available basically for free at the click of a button, people are not in the mindset of buying it because they don't have to. Even I am guilty of this so I do understand it's not just people not caring. I mostly listen to music on Spotify because it's so easy and I love the artists I've found on there and I have to remind myself to buy the albums I love and then keep streaming because it really does make a difference for smaller artists to be discovered and the streams can add up if you're getting millions, but as I was telling my livestream viewers the other day, even if you have a paid account on a streaming site, if you listened to my whole most recent album, I'd get 3 cents. You'd have to listen to my whole album 200 times for me to receive the amount of money I would get if you bought it digitally and 333 times for the cost of a CD. I love me some music but I'm not sure I've ever listened to a whole album that many times in my life….maybe Hanson ;) 
It has made us get more creative with merch and/or, as the CEO of Spotify suggested, we have to just make more and more music which is not only financially draining but exhausting to constantly be in marketing mode. Imagine someone telling you that you had to invent a new product and release it, getting thousands of people to use it – every month. And you pay for all of the production costs (not to mention the time and emotional and mental energy it takes to create the thing) and advertising but you can only sell it for half a cent each. And if you're not making enough money, "it's because you need to be making more products". But if you hit the algorithm right and get on playlists, it gets your music to the ears and hopefully hearts of tons of people you never would have been in front of. So, it's a double-edged sword for sure! That being said, please pre-save my album on Spotify and add my songs to your playlists haha! ;)
I also really enjoy listening to music on vinyl because of the ritual, the little crackling sounds, and getting to hear an album as a whole…like reading a book all the way through rather than just reading some highlighted chapters.
What have you been listening to?
I've been listening to all of Taylor Swift's new stuff (who hasn't) and diving deeper into John Prine's catalogue. I'm also getting to know Phoebe Bridgers' stuff more (I've loved some of her songs for years but finally really listening to her catalogue) as well as First Aid Kit. I know these aren't new. That's one of the things I miss most about life before Covid actually is listening to things in my car. That's mostly when I discover new music or learn by listening to podcasts and audiobooks and I was re-learning Spanish and Greek on tour. But when I'm home I don't do that as much because I'm always working. I do get some in when I go on walks though. 
What are your aspirations for the future?  
I'm currently in the pre-release stage for my new album "The Skies We Look To". My goal is to get 2000 or more preorders before it comes out on April 30th in hopes of getting on those iTunes and Billboard charts again. (If you want to get it, it's at bit.ly/theskieswelookto – pre-save on Spotify and then click the button right below to go to my website where you can access all the stores and get rewards!) The first single "Meet You in Our Dreams" is already available and is an instant gratification track when you preorder the album. The second, "I'd Give Anything" is coming out March 5th and you can pre-save that at bit.ly/idgiveanything. I'm playing showcases this week as part of the Folk Alliance Unlocked Festival and have a bunch more live stream shows coming up including the monthly "Sip&Sing" where an artist guest and I pair our songs with wines and chat about music and life! (Every first Friday at 3:30pm PT on IG Live, FB, Youtube, and Twitter) When it's safe again, I'm looking forward to touring with some artists I admire and meeting their audiences and I'm going to be playing the Grammy game again this year. I very much hope that I can eventually use my platform and music to inspire, bring attention to important issues, and help communities in need on a larger scale.
Questions answered by: Kris Angelis…