devo interview | AAA Music
aaamusic | On 31, May 2010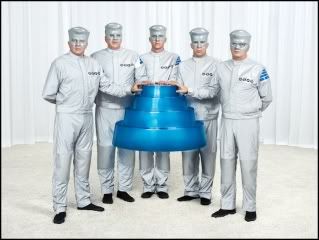 AAAmusic: To start off with, I must ask you why you waited 20 years to release the new album?
Gerry Casale: It was now or never. Mark Mothersbaugh's war of attrition ended and made it possible.
AAAmusic: The sound of the new album reflects your typical sound, although it has pleasant surprises, such as the piano in "No place like home" to name one. How would you define "Something for everybody" and how did you work on the sounds for the album?
Gerry Casale: Devo can only be Devo. We do what we do. It would have been pathetic to try to sound like MGMT or some other young band. We own our sound and we took what was cool about it and thew out what sucked. We avoided self parody and wrote age appropriately.
AAAmusic: During the years a vast fan base gathered around your "world", with a high number of them musicians who produced many tribute albums and festivals. I had the pleasure to cover, with The Transistor, a version of "Beautiful World" for the album "Not Necessarily Beautiful But Mutated" volume 7 tribute album. What is your view on this phenomenon you generated?
Gerry Casale: Apparently we did something right that survived commercial oblivion.
AAAmusic: Do you think that in the current music scene there are bands and/or artists who share your idea on music composition?
Gerry Casale: Yes, we like bands like LCD Soundsystem, The Ting Tings, The Kills, Hot Chip, Passion Pit, Janelle Monae and many more.
AAAmusic: Sharp as razor irony and ambiguity has always been part of your lyrics. Which ones are the main subjects of your lyrics today?
Gerry Casale: It has never changed; the dark side of human nature and the preponderance of duplicity and betrayal are ripe fodder as always.
AAAmusic: Question from a keyboard player to a band that made electro sound their signature one. Analogic or digital? Is it better to dust off the old '70s/'80s synths or we're better off using laptops, softwares and latest generation keyboards?
Gerry Casale: We are the house band on the Titanic. We're all goin' down together. It's too late for such questions. Use it all while you can.
AAAmusic: Many iconic bands during the years face twisting of line-up. Instead, you keep sticking with the mesmerizing "double-couple" Mothersbaugh-Casale. What's your family secret?
Gerry Casale: If I revealed it, it would not be a secret. When I die the skeletons will dance. The document is ready.
AAAmusic: How did the collaboration with the legendary drummer Josh Freese start and what lead to his addition to the line-up?
Gerry Casale: He knew all of our songs and he was the only guy who could do Devo as well as Alan Meyers.
AAAmusic: Could you anticipate us something on the UK and European tour? Us Devo maniacs need to get organized!
Gerry Casale: It will be frighteningly real like Howlin' Wolf and John Lee Hooker when they were scaring 18 year old white kids in the 60's.
Author: Luke Cirillo
Devo's new album "Something For Everybody" is released by Warner Bros. Records on Monday June 14th.  Further info: www.clubdevo.com