Eliza Doolittle talks about the new album & a special dream…
aaamusic | On 02, Jul 2010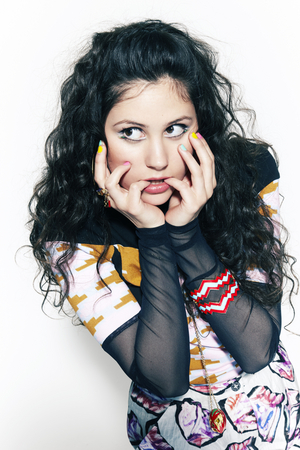 AAAmusic had a chat with Eliza Doolittle – who's releasing the single 'Pack Up' on July 5th and the self title debut album on July 12th – about her acting career and future plans. Here's what we found out!
AAAmusic: Tell us about your single 'Pack Up':
Eliza Doolittle: It's about being care free, not worrying about what people say about you and little things like that, realising that life isn't so bad after all. It's my 2nd single and it's coming out on July 5th.
AAAmusic: What can we expect from your album?
Eliza Doolittle: It's full of smash hits !
AAAmusic: How do you feel your family has influenced you as an artist and musician?
Eliza Doolittle: Well my Dad used to play the piano to me all the time when I was little so maybe that has influenced me sub-consciously!
AAAmusic: You are a former child actress and also appeared in the RSC adaptations of The Secret Garden and Les Miserables: what made you choose music instead of acting?
Eliza Doolittle: I wouldn't have called myself a child actress, I just always loved singing so one day I auditioned for a show just for fun and when I got the part I was super surprised and just happy to be doing it.
AAAmusic: You toured with Jamie Cullum: how was that? Did you prepare anything special?
Eliza Doolittle: The Jamie Cullum tour was amazing! It was an honour to be on tour with such a talented musician. His band were unbelievable too and I learnt SO much watching them all play together and watching how he interacted with the crowd. We didn't prepare anything but I was lucky enough to sing a duet with Jamie when he asked me to come and sing with him during his set It's up on Youtube and my blog if you want to see it.
AAAmusic: Which ones are the artists that have influenced you the most?
Eliza Doolittle: I listen to quite a mix of music so I wouldn't be able to pin point anybody but my long long list includes Stevie Wonder, The Beach Boys, The Kinks, Minnie Riperton, Radiohead, Arctic Monkeys….all sorts!
AAAmusic: Which current artist do you particularly like?
Eliza Doolittle: I love The XX, Janelle Monae, The Drums and am slowly getting my head round Giggs, he's growing on me.
AAAmusic: With whom would you like to duet?
Eliza Doolittle: I'd love to sing with Stevie It would be a dream come true.
The single Pack Up is out on July 5th.
Eliza Doolittle, the self titled album, is out on July 12th.