Kings Go Forth - The Outsiders Are Back | AAA Music
aaamusic | On 31, May 2010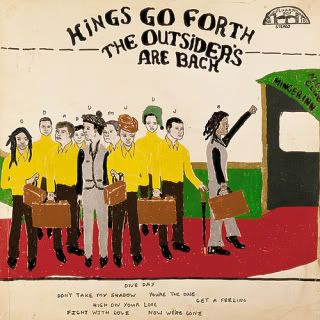 The Outsiders are back is the debut album by Kings Go Forth (the name is borrowed from the title of an ancient Frank Sinatra and Tony Curtis movie), the Milwaukee based soul band co-founded by Andy Noble and long time Milwaukee area R&B performer Black Wolf, immensely talented singer and writer, former member of The Essentials, after the two met in Andy's record shop circa 2004.
Following a string of seven inches lauded by soul music blogs and spun by the likes of DJ Shadow, the new album features 10 original songs written by Noble and Wolf including the Moulton mix "Don't Take My Shadow" and features Andy Noble on bass, Dave Wake on keyboards, guitarist Dan Flynn, percussionist Cecilio Negron, Jr., the explosive drummer Jeremy Kuzniar, Trombonist Dave Cusma and trumpeter Jed Groser.
The album takes inspiration from funk, soul blues, reminding some of the Earth Wind & Fire, some of Marvin Gaye, creating that typical sound you could hear in the '70s before the coming of disco music.
One day is a great starting tune sustained by soul choirs and a warm rough voice. The sound is the typical funk of '70s, with a call to B-movies, completed by a stunning drums solo that reveals the drummer virtuosity.
Don't love you no more goes on following the funk direction revealing the perfect feeling between musicians, you can easily understand their big experience beyond the technical perfection, I love it when it stops leaving alone guitar and percussions keeping the rhythm.
You're the one is influenced by Motown, with its bootlicker sounds, as Fight with love, a more hurting tune, overacted by the piano contrasting with the energy of winds, the moment ruled by vocals, piano and flute makes me feel shivers.
High on Your Love is satisfyingly eased into a relaxed groove influenced by reggae without being bogged down by that genre's typically woozy mellowness.
Paradise lost mixes gospel echoes with that blues rock that you can feel wagged in your stomach.
Don't take my shadow is amazing, reminding the Bobbie Womack of Across 110th Street. Kings persuaded legendary producer Tom Moulton to mix this tune recreating that  '70s scene so uncannily that the track might easily be mistaken for an obscure regional hit from 35 years ago.
Now we are gone keeps soul atmosphers while 1000 songs goes back to reggae rhythm sustained by winds.
Get a feeling tastes of Aretha Franklyn, Wolf performed in an extraordinary way, supported by incredible choirs, it is a very good tune to end an album that could taste a bit a nostalgic, but states the astonishing talent of musicians that choose to ignore the present to plunge into a past marked by great music piecing perfectly together sounds and atmospheres.
Author: Roberta Capuano