Mountain Man Unveil Album Tracklist & Tour Dates
aaamusic | On 07, Jun 2010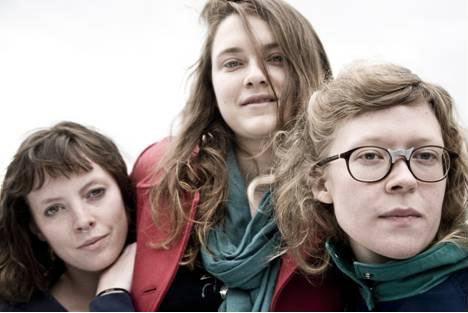 Molly Erin Sarle, Alexandra Sauser-Monnig and Amelia Randall Meath met at Bennington College, in the small town of Bennington, Vermont. They are from the West, Middle West and Eastern United States. It was not until Molly visited Bennington during a term off that the seeds of Mountain Man were set on the windowsill. At the sound of Molly playing a song in the living room of their shared house, Amelia rushed down the stairs and demanded she taught it to her. At this point, Molly and Amelia were not yet friends, but they shared the bond of mutual heartbreak, of having been left with space between open arms. Amelia trapped Molly in her room upstairs where she sang Dog Song over and over, bewildered and a little afraid, until Amelia felt she could remember it well enough to teach Alex. When Molly came back to Bennington in the spring, Alex and Amelia excitedly sprang into her room, and all three sang together for the first time. They were equally bewildered by each other and by the sounds they made together. Molly and Amelia are still in school, studying Performance and Gender, and Theatre and Performance, respectively. Alex graduated in the spring of 2009 with a degree in Literature and Visual Arts. She is now a nanny for two wonderful children.
The music of Mountain Man is nestled in the tradition of American folk, but shoots like diamond dust out of the nest into the high, wide atmosphere. Their songs are shaped by three searching voices, encompassing harmonies and a shared belief in and love of the world. They are mutually moved to sing by their love for people, and for trees, birds and mountains, the ocean, the night, the moon, and being a woman. They all love the rambling, rumbling, rolling summer. Each member of the group writes for the band.
Recorded in an abandoned factory from the turn of the 20th century, each track of Made the Harbor evokes the feeling of being in the room with the band as the record plays, and demands intimacy between the music and the listener. Made the Harbor is an album to swim home to, and to sail away with.
Tracklisting…
Buffalo
Animal Tracks
White Heron
Mouthwings
Dog Song
Soft Skin
How'm I Doin'
Arabella
Sewee Sewee
Loon Song
Honey Bee
Babylon
River
Mountain Man will be playing the following shows in the coming weeks:
Tuesday 22 June – MANCHESTER, Deaf Institute
Thursday 24 June – LONDON, Union Chapel
Saturday 26 June – LONDON, Hard Rock Calling
Sunday 27 June – GLASTONBURY
Monday 28 June – LEEDS, Nation of Shopkeepers
Thursday 1 July – LONDON, St. Augustine's Tower
Friday 2 July – Dublin, Crawdaddy's