Dead Confederate Unveil Album & Free Track Download Here!
aaamusic | On 30, Jun 2010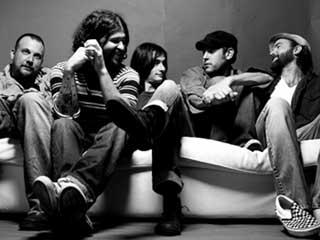 DEAD CONFEDERATE, a five-piece from Athens, Georgia, are all set to unleash their new album Sugar on the UK on August 23rd.
Winter storms are punishingly cold and uncomfortable, but are an important source of water for spring growth. Likewise for Dead Confederate, the series of New Jersey blizzards that besieged the recording of sophomore album Sugar (a reference to the record snowfall) also heralded growth from the darker, somber realm of their critically acclaimed first album Wrecking Ball. With an evolving approach and focused, streamlined sound, Sugar explores new styles beyond the aching, bleak psychadelia of the debut.
That progression was shaped by tours with legends Dinosaur Jr. and Meat Puppets, which increased Dead Confederate's appreciation for the pioneering musicians of the 80s and 90s that laid the foundation for the band's sound. New songs that developed were also lighter and tighter, without abandoning the driving guitarwork and unbridled emotion that has set them apart.
With guidance by star producer John Agnello (Dinosaur Jr., Sonic Youth, The Hold Steady) Sugar pounds with a weighty, dark alt-grunge fervor that recalls Smashing Pumpkins' heyday; at other times, the record buzzes with a frantic distortion and howling anger reminiscent of The Walkmen. Psychedelic and prog-rock elements add depth to a broad and diverse direction for the band — perhaps most evident on 'Run From The Gun,' which blends harmony and Mellotron into a drifting, airy commentary on war.
For the band, Sugar feels like their first true album, with Wrecking Ball feeling more like a collection of their early songs. That cohesion on Sugar is prevalent even when songs continue the foreboding feel of Wrecking Ball, such as Morris' wailing political lament of 'By Design,' and somber, ominous finale 'Shocked To Realize.'
TRACKLISTING
In The Dark
Run From The Gun (w/ Ben Wigler)
Father Figure
Quiet Kid
By Design
Mob Scene
Semi-Thought
Giving It All Away (w/ J. Mascis)
Sugar
Shocked To Realize