Black Country Communion Unveil Album Artwork!
aaamusic | On 08, Jul 2010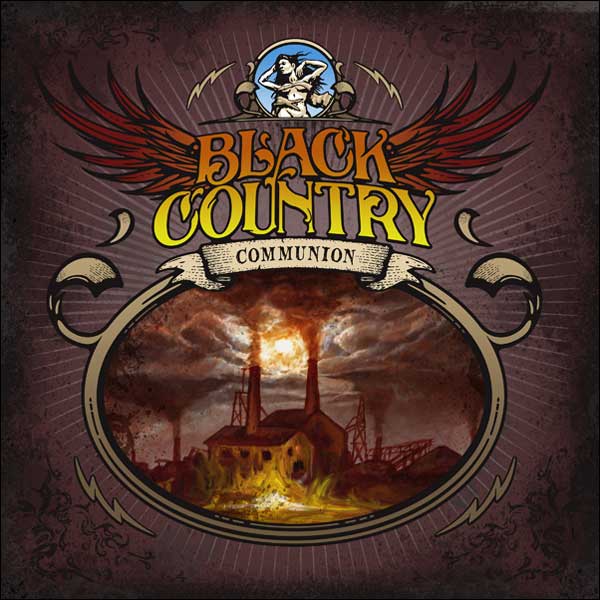 Black Country Communion the Anglo/American rock supergroup comprising vocalist/bassist Glenn Hughes (Deep Purple Black Sabbath, Trapeze), drummer Jason Bonham (Led Zeppelin), Derek Sherinian (Dream Theater) and blues rock guitarist Joe Bonamassa, today confirmed the release date and track listing for their highly anticipated debut album "Black Country".
The album will be released by Mascot Records in the UK and the rest of Europe on Monday September 20th, followed by a North American release through J&R Adventures on Tuesday September 21st.
All songs are sung by Glenn Hughes, with the exception of Song Of Yesterday and The Revolution In Me which are both sung by Joe Bonamassa.  Hughes and Bonamassa share lead vocals on the songs Sista Jane and Too Late For The Sun.
Also included on the album is a new version of Medusa, the classic rock song that Hughes originally recorded with his first band Trapeze.
Black Country Communion is the brainchild of producer Kevin Shirley (Black Crowes, Aerosmith, Led Zeppelin). The album, produced and mixed by Shirley, is mastered by the legendary Bob Ludwig.
Black Country Communion initially came to fruition when Kevin Shirley saw Glenn Hughes and Joe Bonamassa join forces on stage in Los Angeles in November 2009 for an explosive performance at Guitar Center's King of the Blues event.
Shirley recruited powerhouse drummer Jason Bonham (Led Zeppelin, Foreigner) and keyboardist Derek Sherinian (Dream Theatre, Billy Idol, Alice Cooper).
The band, named after the industrial area in the British Midlands where both Hughes and Bonham were born and raised, recorded the debut album at Shangri-La Studios in early 2010, and are planning a tour in 2011.
'The Voice Of Rock' is a true original. No other rock musician has carved such a distinctive style blending the finest elements of hard rock, soul and funk. That astonishing voice is Hughes' calling card. He's known as a singer's singer, with 80+ gold and platinum albums and collective sales of over 100 million units to his name.
Hughes has been at the forefront of the music scene since first achieving success in 1970 with his band Trapeze, before going on to worldwide recognition in 1973 when he joined one of the most popular bands in the world, Deep Purple.
Hughes' R&B-infused bass lines and explosive vocal range blazed throughout the band's hugely successful world tours and albums, including their classic 1974 release, Burn.
Following Deep Purple's split in 1976; Hughes made countless guest appearances as a vocalist, bass guitarist and songwriter on other artists' albums, including Black Sabbath's Seventh Star.
Since 1992, Hughes has toured extensively in Europe, Asia and South America in support of solo albums, including the acclaimed Soul Mover and his most recent release, First Underground Nuclear Kitchen, both featuring Red Hot Chili Peppers drummer Chad Smith.
Part prodigy, part virtuoso, (the rest being mercilessly honed guitar skills and tireless work ethic) Joe Bonamassa has built his reputation as one of the world's greatest guitar players since his career started, at age 12, performing with B.B. King and John Lee Hooker.
Heavily influenced by British and Irish rock legends including Eric Clapton, Jeff Beck and Rory Gallagher, Bonamassa went on to tour and performed with Buddy Guy, Foreigner, Bad Company, Joe Cocker and Gregg Allman before beginning his recording career in the early '90s with Bloodline, a hard-charging rock-blues band with the sons of Robby Kreiger (The Doors), Miles Davis and Berry Oakley (The Allman Brothers Band).
When he went solo as a singer/songwriter, Bonamassa recorded his critically acclaimed debut album, A New Day Yesterday, with legendary producer Tom Dowd.
Barely into his 30s with twenty years of experience in the music business and recording a total of ten albums on his own independent label J&R Adventures (six of which debuted at #1 on the Billboard's Blues Chart), Bonamassa sold out London's prestigious Royal Albert Hall in less than a week in 2009 for a stunning performance filmed for the DVD Joe Bonamassa: Live From Royal Albert Hall, featuring a guest appearance by Eric Clapton.
"Always on the road," Bonamassa performs his transformational live act at more than 200 concerts around the world each year including touring during 2010 in support of his most recent release, the Billboard blues #1(and #39 on the Top 200 Chart) album Black Rock, and plans to reunite with Eric Clapton for the Crossroads Guitar Festival in Chicago on June 26.
The legacy of Led Zeppelin lives on in Jason Bonham, British drummer and son of Zep's legendary John Bonham. Inheriting the best of his father's skills while mastering his own distinctive and dynamic technique, Bonham blasted onto the world stage at age 17 with the band Air Race, opening for huge draws like Queen, Meat Loaf and AC/DC.
In 1988, Bonham took his father's spot in the televised, first-ever Led Zeppelin reunion at the Atlantic Records 40th Anniversary Concert. Later that year, Bonham toured with Jimmy Page and recorded his album, Outrider.
Earning a gold record on the track "Wait for You" from his solo album The Disregard of Timekeeping, Bonham went on to team up with Paul Rodgers, Slash, David Gilmour and Jeff Beck to record the Grammy-nominated album, Tribute to Muddy Waters.
Bonham has made a career of entertaining audiences around the world, touring with The Healing Sixes and Foreigner and rejoining his late father's band members for the most anticipated concert of all time, 2007's Led Zeppelin reunion at London's O2 Arena. In 2006, Bonham recorded the year's top Billboard blues album, You and Me with Joe Bonamassa.
A versatile keyboardist who mixes technical proficiency with distinctively raw power, Derek Sherinian has toured and recorded with some of the biggest names in rock. Sherinian got his big break in 1989, touring with legendary shock-rocker Alice Cooper in support of the multi-platinum albums Trash and Hey Stoopid.
In 1991, Sherinian caught the attention of Gene Simmons, joining Kiss for their Revenge tour and recording Alive III. Moving into progressive rock, Sherinian joined Dream Theater in 1994, recording three albums and performing on two world tours.
Going solo in 1999, Sherinian has recorded six albums, teaming up with legends including Billy Idol, Slash, Al DiMeola, Steve Lukather (Toto) and Zakk Wylde (Ozzy Osbourne) to create a catalogue of music that fuses hard rock intensity with dynamic, jazz-infused flair.