Legendary Blue Note / Nuphonic Promoter starts unique series of nights in Soho
aaamusic | On 20, Jul 2010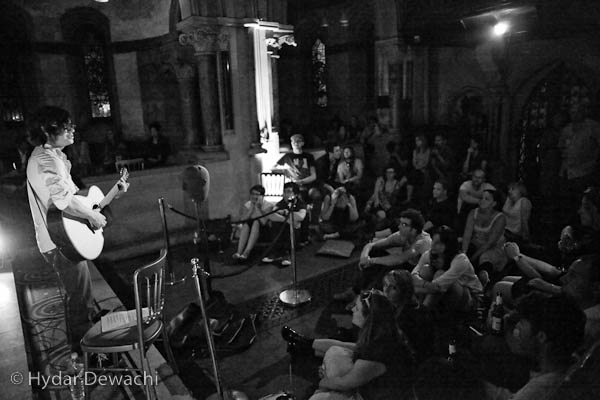 We live in a time of distorted, dislocated reality. Where we see and hear through upload, download, tweet, status update and red-button. Even when we find face-to-face reality, it is often too loud, too rushed and too processed.
Exclusively presented by Intone and hosted by Blacktronica's Charlie Dark in the beautiful surroundings of Soho's House of St Barnabas, Accidental Powercut is a night of truly acoustic music. Some electronica – just no electronics… no amps, no plugs, no microphones, just
music at its purest, allowing the natural acoustics of the chapel to work its magic.
Accidental Powercut is a return to music's miraculous power of communion. Where the sound of a voice, the pluck of a string and the beat of a drum arrive at the listener's ears directly. No bits. No pixels. Just music rediscovered, uncovered from its 21st Century armour and reblessed with wonder and delight.
Come and join us for a series of unique events that will blaze in your memory through the long summer evenings, where the once-dimming flame of your love of music will be reignited.
The sessions will be recorded with binaural microphones… so we'll capture the true ambience and sound of the time and space. Subsequent listening through headphones will provide a 360 digree soundscape, giving the illusion of being right at the scene of the show. All recordings will be donated to the audio collection of the British Library.
Bowers & Wilkins was established in Sussex in the 1960s and has grown to be a hugely respected brand in the world of sound reproduction. As well as its popular ranges of hi-fi and home theatre loudspeakers, the company is also responsible for providing the 'audio standard' speaker systems in many professional recording studios worldwide, including London's Abbey Road, and has also entered into partnership with Jaguar to provide in-car entertainment systems.
Quintessentially Soho at the House of St Barnabas
Summer 2010. Next Dates: 5th August, 2nd September
With acoustic sessions from; Get Cape Wear Cape Fly, Jon McCleery, Speakers Corner Quartet, Polarbear, Sound Of Rum, Fiona Bevan, Talvin Singh, Corey Mwamba, Tinashe…