BEACH HOUSE release NEW i-Tunes Sessions EP – Listen to new song WHITE MOON!
aaamusic | On 27, Aug 2010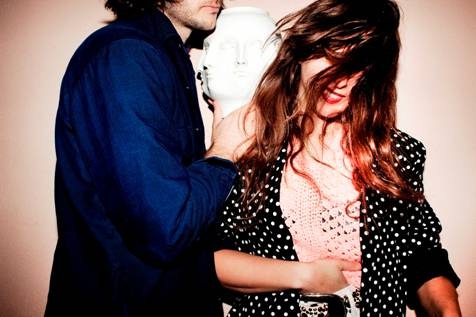 In January 2010, Baltimore's Beach House produced an early front-runner for album of the year with Teen Dream. On Monday 13th September, the band will release a 6-song iTunes session which includes re-imaginings of 5 previous album tracks and an entirely new, unreleased track, 'WHITE MOON' After the release of their new 6-song iTunes Session, and with an expanded live line-up, Beach House sets out on a 7-week North American tour with Vampire Weekend.
The six-track EP includes re-workings of "Walk in the Park," "Norway," "Silver Soul," and "Real Love" from Teen Dream, "Gila" from Devotion, the band's 2008 release, and a totally new track "White Moon". All songs were recorded as a live session in one room with Victoria Legrand on keys and vocals, Alex Scally on guitar, bass pedals and vocals, and Daniel Franz on drums. The session was produced and mixed by Beach House and Chris Coady.
Alex Scally of Beach House:
"We recorded these six songs after touring for 12 straight weeks. Whenever we are asked to record stripped-down versions of our songs, we cringe, because for us this means that all of the subtlety and attention to detail will be lost, and a rich song will be turned into a bland, generic song. So, when iTunes offered to have us record a stripped-down live session, we were very hesitant. We found out that we could record with our friend Chris Coady, and we agreed, believing we might be able to make it meaningful. During the week or two of sound-checks leading up to the recording, we worked through the songs and attempted to rewrite them with fewer and different tones. Listeners can judge whether or not we were able to make these 'stripped-down' versions mean something."
Beach House will return to these shores in November:
Friday 19 November – MANCHESTER – Manchester Cathedral (£14)
Saturday 20 November – GLASGOW – Oran Mor (£15)
Tuesday 23 November – LONDON – Shepherd's Bush Empire (£14)
Wednesday 24 November – BRISTOL – Trinity (£12.50)
Thursday 25 November – BRIGHTON – Concorde 2 (£12)