Fenech-Soler Announce UK Tour Dates with David E Sugar
aaamusic | On 31, Aug 2010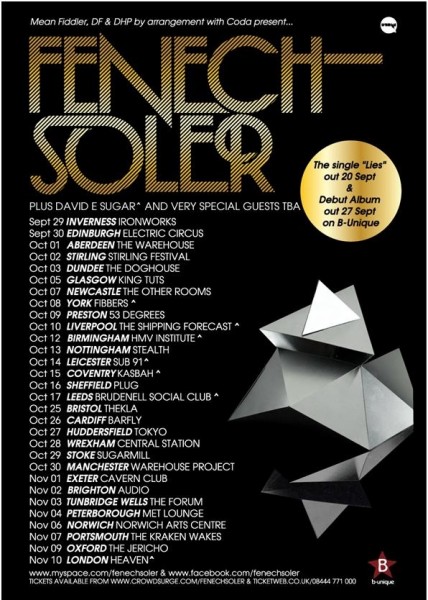 Fenech-Soler announce the release of their eagerly anticipated debut album and a maiden headline tour, both kicking off at the end of September.
Borne of a true faith in pop and fermented in the spirit of self-determination, Fenech-Soler's radio-friendly nous and festival verve has brought them to the gates of an explosive debut. Having seen their independently released single Stop & Stare
playlisted at Radio 1 in May, and reach the Top 10 of the Dance and Indie singles charts, the band have signed to B-Unique for the release of their album on 27th September.
It's an album that begins with a blast, its opener Battlefields launching with a heavenly chorus of voices, before shooting into stratospheres of glistening synths and dirty brass. Forthcoming single Lies – released 20th September – rises slowly from the deep, a tale of lust and paranoia that becomes a glittery explosion of foot-stomping melancholy. Golden Sun plays with rhythms that summon up the sultriness of desert heat; The Great Unknown takes a distant echo of French house in new, dizzying directions. And of cause Stop And Stare is their club and festival anthem ready and waiting, full of twitchy, urgent riffs, and hands-to-the-air vitality. It is the sound of a band at the starting gate, ready to fire their gun.
UK TOUR DATES:
29 Sep: Inverness, Ironworks
30 Sep: Edinburgh, Electric Circus
1 Oct: Aberdeen, The Warehouse
2 Oct: Stirling, Stirling Festival (club show)
3 Oct: Dundee, The Doghouse
5 Oct: Glasgow, King Tut's
7 Oct: Newcastle, The Other Rooms
8 Oct: York, Fibbers
9 Oct: Preston, 53Degrees (club show)
10 Oct: Liverpool, The Shipping Forecast
12 Oct: Wolverhampton, The Little Civic
13 Oct: Nottingham, Stealth
14 Oct: Leicester, Lock
15 Oct: Coventry, Kasbah
16 Oct: Sheffield, The Plug (club show)
17 Oct: Leeds, Brudenell Social Club
25 Oct: Bristol, Thekla
26 Oct: Cardiff, Barfly
27 Oct: Huddersfield, Tokyo
28 Oct: Wrexham, Central Station
29 Oct: Stoke, Sugarmill
30 Oct: Manchester, The Warehouse Project (club show)
1 Nov: Exeter, Cavern Club
2 Nov: Brighton, Audio
3 Nov: Tunbridge Wells, The Forum
4 Nov: Peterborough, Met Lounge
6 Nov: Norwich, Arts Centre
7 Nov: Portsmouth, The Kraken Wakes
9Nov: Oxford, Jericho
10 Nov: London, Heaven