Archive – Controlling Crowds
aaamusic | On 16, Sep 2010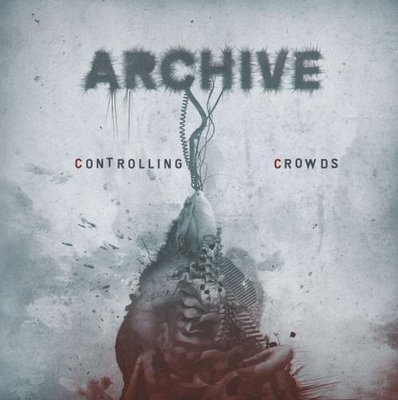 Coming in four parts is the expansive epic of Archive's 'Controlling Crowds', a sprawling musical behemoth that is the result of the France-based UK musical collective's considerable efforts. Strap yourselves in folks, we're in for the long haul.
The opening title track itself is a mammoth ten minutes of what feels like the surreal yet addictive lovechild of hip-hop beats, electronic rock and the late-nineties videogame soundtrack renaissance with a socially aware and unnerving lyricism that, once it kicks in, sweetens the deal yet further. This track alone would be reason to check out the band, with their accomplished handle of genre-crossing and succinct lyricism.
On the surface, Archive is evidently influenced by trip-hop a la Massive Attack, but it is in possession of an almost classical melodic sensibility and Pink Floyd-esque sense of emotive grandeur, along with lyrics that fall between Radiohead and The Clash that expands it beyond genres. One particular Pink Floyd moment is the haunting 'Collapse/Collide' with glacial synths shimmering around a soulful yet cold ballad with achingly angelic vocals, which blends seamlessly into the sinister soundscape of 'Clones'.
'Dangervisit', 'Chaos' and 'Bullets' are chunks of chilling beauty, creeping under the skin with cold urgency. Synths, classical piano, hollow echoing percussion, vulnerable yet beautiful vocals, rambling basslines all combine in these to construct wondrous and ethereal soundscapes, with the midpoint in 'Dangervisit' featuring guitars and a switch in tempo hurtling into the equation and grabbing the listener by the throat only to end in crushing feedback desolation. 'Chaos', with its emotive classical surface appearance featuring soaring strings, a horn section and reliance on hypnotic piano melodies and falsetto vocals to lead the piece feels like a less bombastic Muse.
Emerging from Nine Inch Nails meets Godspeed You! Black Emperor atmospherics, 'Quiet Time' is a ghostly rap track laid over some beautifully arranged pseudo-orchestral backing.
'Kings Of Speed' feels as if it is turning over a new leaf in its bleak pleading to be heard. The eloquence in both word and music make this an accessible yet intelligent point in the proceedings, and helps anchor the listener in a more traditional song structure, albeit with an equally uncompromising approach to music in the fearsome prowess found in the musicianship in both the simple verses and the mesmerizingly claustrophobic instrumental. Archive then throw a curveball by injecting softly distorted soul balladry into the bitter caress of 'Whore', with its saw-edged vocals, and melodic bassline draped over mournful piano chords, glitchy synths and hip-hop drumming.
Another brief Godspeed You! Moment can be found in 'Razed To The Ground', which begins with chromatic strings and a whistling wind like the offcut of the apocalypse before another hip hop track announces its presence with heavy beats and synths so distorted and ominous they feel like they are emerging from the bowels of hell. We then return to the atmospherics for the truly touching 'Funeral'. Blending The Cure, classical music, Pink Floyd, Massive Attack, film soundtracks and just about everything else worth mentioning, this is seven minutes of tragic bliss and buildup to a musical transcendence featuring flawless melodies woven together with care, effort and a truly gifted set of ears and minds.
'Pills' is the start of part 4, and is a techno-pop style track with echoing vocals over pulsing synths and an urgent drumbeat that pulls everything along with surprising momentum. Using this to start the final stretch of the album is a smart move as it gives a fresh start to the music, and is in itself an accomplished and polished track with a catchy hook and some real heft in its emotional power. 'Lines' appears to be a follow-on track, but instead fluctuates between bleak note-bending and a full-blooded rap rock track, pursued by the ambient and romantic musings of 'An Empty Bottle', overlaid by strings and tuneful vocals.
It has to be said that two hours worth of material is hard to sit through without getting the fidgets, and many listeners might start losing attention by part 4, or earlier, but those who stick around will find rewarding melodic tweaks in 'Come On Get High', and innovations in lyrics, atmospherics and genre-blurring right through until the end.
Classifying Archive would be an impossible task. What they are is almost totally in defiance of musical convention as they incorporate nearly every genre that's kicking around in the world of popular and underground music. In a way, 'Controlling Crowds' is truly the work of a collective and could be seen more as a compilation album. However, if this is the case, a more coherent and artfully constructed compilation could not exist. Archive have successfully placed Muse styled classical noodlings on rock instrumentation right beside hip hop commentaries on society, and throughout the sense of a unified vision is evident even in light of the total divide between the styles on offer. Archive might have created a real monstrosity of a running time, but this is merely to accommodate an unflinching innovative force without a single moment of uncertainty.
Author: Katie H-Halinski