BIGGA FISH in association with SBTV PRESENT: IT JUST GOT BIGGA TOUR
aaamusic | On 29, Sep 2010
LINE UP
GRIMINAL | MZ BRATT | PRINCESS NYAH LOICK ESSIEN | MARVELL BOYS | TRILLA | RIO | ANGEL | LIONESS MELEKA | BABY BLUE | RD (RUFF DIAMONDZ) | NASTY JACK | BIG MAN ZEST RAW VYBES | DR PSYCHO | JAZZIE | POLICY | DJ RANDOM | MESSY | DA BATCH | BIGGA BLOCO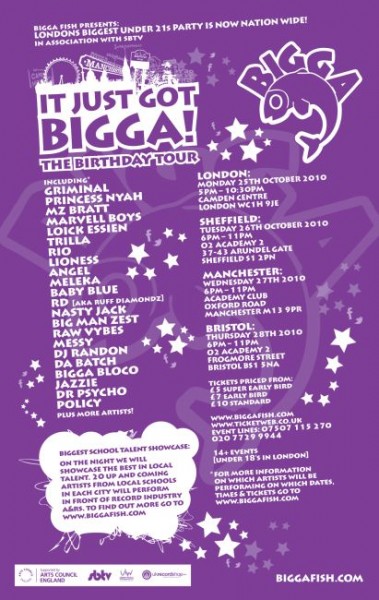 London 25th October @ Camden Centre – 5pm – 10:30pm
Sheffield 26th October @ O2 Academy 2 – 6pm – 11pm
Manchester 27th October @ Academy Club – 6pm – 11pm
Bristol 28th October @ O2 Academy 2 – 6pm – 11pm
One of London's biggest under 21 parties is going nationwide. The non-profit youth organisation Bigga Fish has announced the final line-up for this year's It Just Got Bigga Tour, hosted by Bigga Fish in collaboration withSB.TV, one of the UK's most popular online youth entertainment channels.
The tour is a series of four shows across the UK that will give local performers aged 13-21 the opportunity to showcase their talent alongside some of the UK's hottest urban artists including Griminal, Mz Bratt, Princess Nyah and Loick Essien.
A total of 10 schools from each area (London, Sheffield, Manchester and Bristol) have been invited to nominate 2 pupils who they think best represent the talent and creativity of their school. Each act will be performing in front of a live audience and A&R representatives from some of the country's leading record labels. At each show, the 20 acts nominated to perform will have the chance to receive feedback from industry experts and build their profile through exposure on the Bigga Fish website and SBTV.co.uk, who have over 20m views of their video content.
The initiative is a great incentive for schools to become more active in urban and pop music and involve teenagers in a range of activities that will encourage creativity and open up opportunities for the future. The tour also provides a chance for schools and pupils to see first hand the positive effect Bigga Fish programmes have had on the lives and careers of young people in London and across the UK.
Bigga Fish currently has a street team of 160 young people and in the last 12 months has showcased UK acts including Tinie Tempah, N-Dubz (Bigga Fish graduates) and Chipmunk. Already this year the organisation has co-produced the 'What's Next' event at Somerset House, headlined by N-Dubz and supported by 30 up-and-coming artists for an audience of 3000. The street team, alongside the numerous large events happening throughout the year, aim to empower young people and provide them with the opportunities and entrepreneurial skills to build their own careers.
Tickets £5-£15
Available at biggafish.com
It Just Got Bigga Tour is supported by Arts Council England and in association with SBTV, leading entertainment, events, lifestyle and media website Urban World and UK Record Shop.
sbtv.co.uk | urbanworld.co.uk| ukrecordshop.com