Introducing Ivan Ink 'n' Isa
aaamusic | On 13, Oct 2010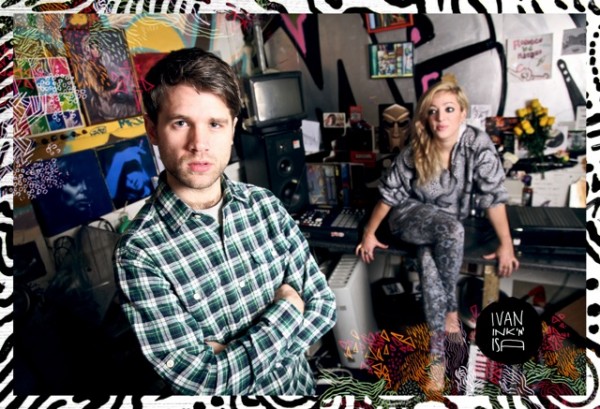 The Ivan Ink 'n' Isa EP is the first collaborative release from Oliver Briggs (Ivan Ink + Pen) and Isabella Summers (Florence + the Machine).  Their friendship began years ago, in Peckham, among the painted faces that congregated in an old Co-op filled with booze and machinery.
The daughter of a decamped fisherman from Hackney, Isa grew up in Suffolk where she spent years in boys' bedrooms mixing Hip Hop and Drum and Bass. In stack-heels that outgrew her, Isa moved into a friend's cupboard in London to study filmmaking. She landed a job for Dan Greenpeace at All
City Music and shot slasher horror, but she just "wanted to make rap and dark beats".
So she rented "a shed" in the newly opened Antenna Studios in Crystal Palace. In her tiny studio Isa began to produce tracks with bands that were hanging around, blokes she found at bus stops, and a girl named Florence Welch. During that time, Florence and Isa's clapping, banging, feet stamping and howling became the foundations for Cosmic Love, Between Two Lungs and Dog Days.
Isa now tours as keyboardist in Florence + the Machine. She has six additional production credits and co wrote five songs on the Brit-award winning, multi-platinum album 'Lungs'. Her alchemic production skills combine filmic beauty, low-fi textures, cross-genre knowledge, and love. In her words, "You get back what you put in".
South London born Oliver fell out of the Croydon club scene and into art school. While Isa was filming
dismembered limbs, Oliver animated disjointed stop-frames and "thrashed out on loud guitars" as one third of altrock group Ivich Lives. It was a formative time, he says, "A mentality I developed at art college is still really present in the way I work musically."
The opportunity to work in session and on tour with Richard File (Unkle) and We Fell To Earth provoked a departure from the screaming energy of Oliver's previous incarnation. A year spent in
the studio consolidated his ambitions and earmarked a move towards the progressive, layered compositions that characterise his solo project, Ivan Ink + Pen.
"I don't hear people say I sound like anyone else," Oliver says quietly and believably, "When I sing, it just feels right". And so it sounds. The four-track EP released this May on Oliver's independent label Brink Records forms a captivating introduction to the pair's sophisticated musicianship and folkloric storytelling.
The Ivan Ink 'n' Isa EP sits somewhere between Bowie's 'Low' and Bat for Lashes. Orchestral and electronic by turns, they create an atmosphere all their own, a light and dark noise grown from sketches, overheard fragments and passages in books.
Imagine Boris Karloff slowdancing with Tess of the D'Urbervilles to Silver or Lead on a sticky nightclub floor… Feel the wind in your hair with Standing on a Hill, a rainy day fairytale filled with strings and pleas.  Get captured in the reverberating melancholy of Caught in Symmetry and
swept away by the saltwater shanty Lovers Kiss.
Listening to Ivan Ink 'n' Isa reminds me of a cigarette rolled in flint dust and lit. I watch sparks fly off the paper, I hear the crackle of a warm red glow, and then I jump…
…This strange homemade firework just burnt my finger.
Track Listing:
1. Lover's Kiss 02:58
2. Standing on a Hill 03:23
3. Caught in Symmetry 03:44
4. Silver or Lead 04:14