Josh Bray – Whisky and Wool
aaamusic | On 06, Dec 2010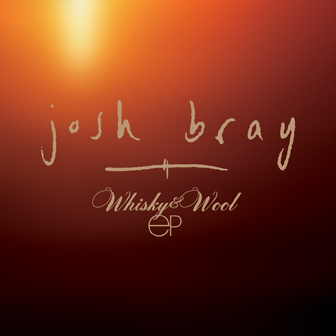 Having been a quiet but consistent part of the Capital's acoustic touring circuit, London based folk fans may have come across Josh Bray. For most, however, 'Whisky and Wool' will be the first real chance for this Devon-born singer-writer 's music to reach your ears. Yet as soon as track one begins the music will instantly feel over familiar, as if you've been listening to this EP for some time. There are two reasons for this, one good and one bad. Bray's songwriting skills are superior to the average folk singer-songwriter, with choruses and bridges that are both immediately accessible and memorable. The bad reason these four songs (three original compositions and a cover) sound over familiar is simply because there is nothing remotely original here – Josh Bray's influences are clear (Nick Drake being an obvious inspiration), yet little is done to add some kind of personal stamp to his music.
This EP offers up a little variation, with each track displaying differing hints of various artists. 'The River Song' is a great little pop-folk tune, with breezy pacing and airy drums, and a pleasing bit of harmonica thrown in – it's perhaps the most commercially viable song out of the four, with obvious nods to James Morrison and Joshua Radin. 'Bigger Than The Both Of Us' bares a striking resemblance to Nick Drake, to such a degree that I had to double check it wasn't a cover. A warm folk song with gentle but quick acoustic fingerpicking backed by Nick Drake's 'Fives Leaves Left' era string-orchestration. 'Living Free' offers something more rocking; an alt-folk song with bluesy electrical guitar and prominent drumming – it's all very American sounding, with a more gutsy vocal performance by Bray. A live studio cover-version of Led Zeppelin's 'That's The Way' closes the EP. It's a nice stripped down cover, with smidgens of blues and more of the strings that have featured throughout the whole release – basically, imagine Nick Drake covering a Zeppelin song…
To sum up, Josh Bray is not afraid to have his musical heroes on full display, but it's one thing to reference an artist who has influenced you and another thing to imitate them. To Bray's credit, he is a more than capable writer and performer, and his voice is simply sublime (higher pitched than most Nick Drake impersonators), but he's going to have to offer up music with more original flair and music a bit more substantial to rise above obscurity.
'Whisky and Wool' will be released on December 6th, as a taster whilst Bray preps the release of his full debut album in March 2011. Let's hope that across a full album's worth of material Josh Bray has scope to prove himself as a formidable contender with Dan Arborise, Joseph Arthur and Alexi Murdoch, rather than just another disposable Nick Drake wannabe.
Author: Clive Rozario