Introducing Video Villain
aaamusic | On 28, Jan 2011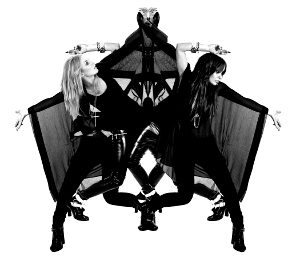 Video Villain are Marie France and Lucy Catherwood and this is their debut single 'Fearless', to be released for download on February 21st.
Self-made, self-released… they even made the video. Summarised by the band themselves, the track is "about coming through a difficult time in your life and realizing you are better for it, basically embracing change."
Charged with electricity and taking influences far and wide, from Nine Inch Nails and Aphex Twin to Beethoven and Wendy Carlos, 'Fearless' is 5 minutes and 31 seconds of intense, bass driven, electronic rock hedonism. The almost occult-like video has already been rumbling in the depths of the web for a few weeks and can be seen here:
"We are huge film nerds so when coming up with ideas for the video we were like kids in a candy store" they explain.
"The whole idea is based around the feeling of change and uncertainty and travelling along a dark road – inspired heavily by David Lynch's Lost Highway. Lucky for us we were able to work with Philip Clyde Smith who not only understood but embraced our unusual ideas and helped us take them one step further.
"The whole video was filmed in one night on a very barren and cold moor-side which was unlucky for the three dancers we had in bikinis!"
Having met at school in the Yorkshire Dales, the pair are now based in Leeds, where their creative output also includes their own clothing brand Art Disco (www.artdisco.co.uk). Their hand printed, Eco-friendly designs inspired by debauched Hollywood Glamour and the dark under belly of popular culture are sold internationally.
'Fearless' is the first track Video Villain have unleashed upon the web, but these are two young women you can expect to hear much more from. As they put it "We have both played instruments for most of our lives, and it just evolved into starting a band. We always idolized 60s and 70s bands and thought there mustn't be anything cooler than writing and playing music all day long."
Video Villain will be announcing UK tour dates shortly, but in the meantime you can see the music videos and short films they have created so far on their youtube channel at www.youtube.com/user/videovillaintv