Japanese Voyeurs Headline Tour Starts Today
aaamusic | On 03, Feb 2011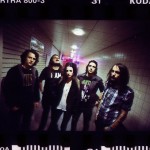 After touring with Young Guns and playing various shows with the likes of Rolo Tomassi and The Ghost Of a Thousand over Christmas, the ever-loud Japanese Voyeurskick off 2011 with a headline tour, leading into the Rock Sound Exposure tour with Dinosaur Pile-Upand The Xcerts.
Their most recent single 'Milk Teeth' was released back in November on Fiction, it's the first single from their eagerly awaited debut album 'Yolk', due for release later this year – more details to follow shortly!
See the slightly grotesque yet undeniably brilliant video for 'Milk Teeth' is here: www.youtube.com/watch?v=otMyV57Pmqs
'Yolk'was recorded in a variety of studios across North America, over the spring with GGGarth Richardson (Rage Against The Machine/The Melvins/Jesus Lizard) in an isolated farmyard in the forests of Canada, and mixed by Alex Newport (Fudge Tunnel/At The Drive-In) in the sweat of the Brooklyn summer. Veering from the softest caresses to the most brutal of attacks, you can feel not only the dichotomy between the seclusion of the Canadian wilderness and the strip bars of inner city New York, but the internal psychodrama that makes the record such a visceral experience. The first track to be released from it is 'Smother Me' which can be downloaded for free from the band's Myspace page.
Tour plans for the next few months now look like this:
FEBRUARY
3rd Middlesborough, The Crown
4th Hull, Adelphi
5th Dundee, Hustlers
6th Aberdeen, Tunnels
7th Inverness, Mad Hatters
9th Liverpool, Shipping Forecast
10th Stoke, Sugarmill
11th Wakefield, Escobar
12th Exeter, Freakscene @ Pheonix
14th Bath, Moles
17th Bedford, Esquires +
18th Bournemouth, Champions +
19th Brighton, Audio +
20th Tunbridge, Forum +
22nd Cambridge, Haymakers +
23rd Birmingham, O2 Academy 3 +
24th London, Relentless Garage +
25th Bristol, O2 +
27th Glasgow, King Tuts  +
28th Newcastle, O2 Academy 2 +
MARCH
2nd Leeds, Cockpit 2 +
3rd Manchester, Roadhouse +
4th York, Duchess +
5th Southampton, Joiners +
+Rock Sound Exposure tour w/Dinosaur Pile Up and The Xcerts. More info: http://on.fb.me/fcFwxB
Japanese Voyeurs are Johnny Seymour (Bass), Rikki Waldron (Keys), Romily Alice (Guitar/Vocals) Steve Wilson (Drums) and Tom Lamb (Guitar).