Ocean Colour Scene Return with Moseley Shoals 15th anniversary edition + album tour
aaamusic | On 03, Feb 2011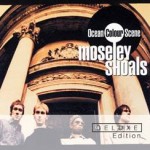 "An absolute Classic Album in every sense of the word.  It set a bench mark for the writing of quality Rock and Roll tunes and it's no surprise to me it has withstood the ravages of time and is still there as one of the great, true survivors of the brit pop era. Long may they continue doing the same!" – Mani – Primal Scream / Stone Roses
Links: http://www.oceancolourscene.com/
In 1996 Ocean Colour Scene, the four-piece band from Birmingham, would release 'Moseley Shoals' one of British rock's greatest records.  It was the year football was coming home.  Brit Pop was at its most triumphant.  The Beatles were back in the charts. Take That had split and Oasis were sewing everything up.
In February The Riverboat Song exploded across the airways courtesy of Chris Evans, host to the biggest programme in the UK, the Radio One Breakfast Show.  The impact was immense.  The opening track on Moseley Shoals originated from one of Steve Cradock's conquering riffs and was an apt introduction to one of THE albums of that year.
Fast-forward 15 years and Universal release the all-conquering 'Moseley Shoals' as a covetable deluxe version with 2 CDs featuring original album track-listing plus b-sides.
ALBUM TOUR!!!
Ocean Colour Scene will be touring in February and performing 'Moseley Shoals' in its entirety (dates below).  The band play the 'Moseley Shoals' London show at Brixton Academy on December 10th 2011.
'Moseley Shoals' pays homage to the album art form.  Connected.  Thematic. Visionary.  The music was explosive.  Ballads sit beside rockers.  A blended marriage; something old, something new, sometimes borrowed, the truth of the Blues.  The title: a tribute to the Muscle Shoals Sound Studio, 3614 Jackson Highway. The front cover: four faces looking out from under the Victorian monument shot in Jesphson Gardens, Leamington Spa.  The album was flying out the shops.  The record boasted four smash singles and jostled for the number one spot throughout 1996.  Spending over a year in the chart, selling over 1.3 million copies, including an incredible six month tenure at number two.  A year later, the top honour was bestowed upon Marchin' Already.  Very much Moseley Shoals' sister release, but very much another story.
FULL TRACK LISTING ATTACHED.
Moseley Shoals tour dates!!!
FEBRUARY
09 – Newcastle, O2 Academy  www.ticketweb.co.uk
10 – Llandudno, Venue Cymru  www.ticketmaster.com | www.venuecymru.co.uk
11 – Cardiff, Uni  02920 230 130 | www.ticketmaster.co.uk
13 – Dublin, Olympia| http://www.ticketmaster.ie/event/18004536DCE44E9E?artistid=750020&majorcatid=10001&minorcatid=1
15 – Southampton, Guildhall 0844 338 0000 |  www.bookingsdirect.com
17 – Bristol, O2 Academy www.ticketweb.co.uk
18 – Leeds, O2 Academy 0844 338 0000 | www.bookingsdirect.com
19 – Liverpool, Guild Of Students www.ticketweb.co.uk
21 – Norwich, UEA www.ueaticketbookings.co.uk
22 – Nottingham, Rock City www.alt.tickets.co.uk
24 – Aberdeen, Music Hall 0871 220 0260 | www.seetickets.com
25 – Glasgow, Barrowland 0871 220 0260 | www.seetickets.com
26 – Birmingham, O2 Academy 0844 338 0000 | www.bookingsdirect.com
10 December 2011 – London Brixton Academy| http://www.o2academybrixton.co.uk/Search/List?q=ocean+colour+scene