INTRODUCING MIKEY CUPID AND THEIR NEW EP "HEY CRAZY WORLD"
aaamusic | On 25, Feb 2011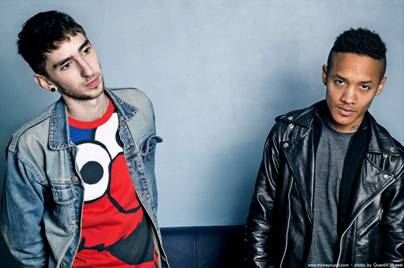 Mickey Cupid happened when New York and Brussels collided in 2010, Marcus Harmon (New York) and Matt Nannetti (Brussels) came together on a trip to Brussels when Marcus needed someone to jam with, he found Matt and together they eventually founded Mickey Cupid.
The band are set to release their EP 'Hey Crazy World' which will be available to download for free from their website, www.mickeycupid.com and will provide you with a snippet of what is to come. The lead track will be 'Keep It In Disguise'.
Mickey Cupid are the ultimate pop band, Matt provides an element of dance, electro and club while Marcus understands song-writing and supplies the pop. Although the boys were brought up in worlds so far apart, they connect in their music as it would seem they were meant to do.
With fans including Bryce Wilson, Lisa Vu and Jimmy Maynes in the record industry, they are heading in the right direction, but most of all they have connected with a fan base which spans over two continents.
Following in the footsteps of bands like The Temper Trap, Bag Raiders and Roxy Music, Mickey Cupid have the pedigree to succeed.
The EP is 6 songs long and the band have a whole host of other material ready to be put out there for the world to hear. Mickey Cupid are passionate about what they produce and along with their upbeat, stimulating new sound, they are sure to provoke an electrifying reaction.
You can catch the band through their website, www.mickeycupid.com,
on Facebook, www.facebook.com/mickey-cupid,
Myspace,
and follow them on Twitter, www.twitter.com/mickeycupid !