Sophie Barker releases new single Say Goodbye and streams Lucky Elephant Remix
aaamusic | On 25, Feb 2011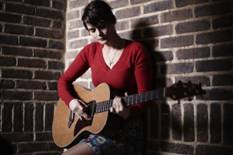 Sophie Barker, the voice behind Zero 7's stunning first two albums, returns with her new single 'Say Goodbye', released 14th March 2011. Following her regarded work with Groove Armada, The Egg, Tocadisco, Grooverider and her debut solo album 'Earthbound', Ho Hum Records are delighted to announce the first release from her long-awaited second album, 'Seagull', which takes flight in May 2011.
'Say Goodbye' delights with its French pop sensibilities, with Sophie's unique vocal leading the acoustic guitar, Wurlitzer and piano melody through a soaring low-fi journey. The track twists and turns until reaching a crescendo – wherein the electric guitar roars upwards before fading behind the sound of the strange funfair ride. This is the sound of Sophie at her most melodic, yet haunting best.
'Say Goodbye' is accompanied by two wonderful remixes from Lucky Elephant (Sunday Best) and The Beauty Room (Kirk Degiorgio) which both pick out different elements in the single. The upbeat Lucky Elephant remix is an homage to classic 80s pop, whilst The Beauty Room offer a low-fi, analogue down-tempo mix to the proceedings.
Lucky Elephant Remix Stream – http://soundcloud.com/hohumrecords-1/02-say-goodbye-lucky-elephant
'Say Goodbye' is released through all good digital retailers on 14th March 2011.
Jazz Cafe Tickets
www.jazzcalive.com/newsandevents/templates/bookings.aspx?articleid=1331&zoneid=1
www.sophiebarker.com