Efterklang's 'Magic Chairs' wins IMPALA European Independent Album of the Year Award
aaamusic | On 28, Feb 2011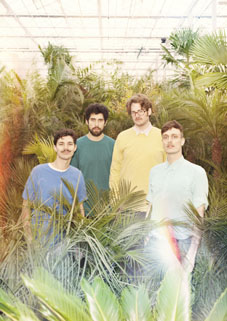 Efterklang's third full-length album, Magic Chairs, has won the first IMPALA European Independent Album of the Year Award from a shortlist of 21 albums from across Europe. Magic Chairs is the Danish band's first album for 4AD and was released globally in February 2010, with the band's own label, Rumraket, releasing the record in Scandinavia. The album was mixed by Gareth Jones, famed for his work with Depeche Mode, Nick Cave and Grizzly Bear. The announcement comes a day after the group completed the UK leg of their final Magic Chairs tour, playing to a sold-out crowd at London's Scala.
Helen Smith, Executive Chair of IMPALA commented: "There were many deserving artists among the 21 nominees and it was a close run thing. Magic Chairs is a great album and I'm delighted to see it winning. On top of that it's a truly European release – a Danish band with their own label working with a seminal UK independent."
Rasmus Stolberg from Efterklang said: "We are honoured and happy to receive this award! Thank you! Just last week Owen Pallett gave us an award for Band With Best Skin, which was nice, but winning the European Independent Album of the Year beats it by far – wow. We want to congratulate Impala on turning 10 and we would like to thank Roger Trust, 4AD, Sony/ATV Music Publishing Scandinavia, A:larm Music, Playground Music and all the other fine people and companies we work with and all the incredible musicians who play in our live band and also on Magic Chairs."
More about EfterklangEfterklang have toured with the album throughout Europe, across the United States and Canada, and also Brazil during 2010 and 2011. Magic Chairs has also formed the basis of Efterklang's "Efterkids" initiative – dedicated to encouraging music in public schools – and their collaboration with French filmmaker Vincent Moon to produce the An Island, an "unconventional music performance and an abstract documentary" (http://anisland.cc/home/about/), which has and will be screened close to a 1000 times in February and March 2011. The film sees Efterklang interpret and perform songs from Magic Chairs alongside 200 local musicians, children and the parents to the 4 core members of Efterklang. Most recently the songs from Magic Chairs was featured when Efterklang's new 17 piece orchestra project entitled Efterklang+Daniel Bjarnason & Their Messing Orchestra debuted at the CrossLinx festival just two weeks ago.
More about the album – What the press said about Magic Chairs
"A miraculous conservatoire pop opus." MOJO ****
"A superb record from one of the world's most uniquely-minded bands." BBC
"Another demonstration of the Danish group's astounding imagination and limitless talent." Rock Sound 9/10
"This stunning record simply soars above the sum of its high-falutin' parts." Monocle
"Packed full of immediate melodies and soul." NME
"For Magic Chairs, they haven't thown out all their old tricks, but they have refined them and coupled them with actual pop songs, beautifully composed and adorned with strings, flutes and pianos, but never to excess." Mail On Sunday ****
"A resounding triumph, coming close to capturing the chaotic utopia of their live performances." Clash 8/10
"A very satisfying addition to an already impressive Efterklang discography." MusicOMH ****
"This is an album of magnificent achievement." The Line Of Best Fit
More information on Efterklang: www.efterklang.net/home/
More information on Efterkids: www.4ad.com/features/efterkids/
More information on An Island: www.anisland.cc/home/about/
'Modern Drift', the opening track from Magic Chairs, can be downloaded from here: www.efterklang.net/home/downloads
More about IMPALA's Independent Album of the Year Award
The European Independent Album of the Year Award was announced to mark the 10th anniversary of IMPALA. The Award looks at showcasing the breadth and diversity of independent music across Europe, and demonstrates the exceptional talent in the sector. The winner is selected regardless of sales figures by jury of Impala board members, from a shortlist compiled from a national and non-national album nomination from European territories. Nominated albums were required to have been released in 2010 (1st January – 31st December), on a European independent label. The criteria for nominations and the selection process may well evolve with the progression of the award. The full shortlist of nominated albums for this year's award was:



–       Aeroplane – We Can't Fly (Eskimo Recordings) Belgium (artist), Belgium (label)
–       Arryan Path – Terra Incognita (Pitch Black Records) Cyprus (artist), Cyprus (label)
–       Asa – Beautiful Imperfection (Naïve) France/Nigeria (artist) France (label)
–       Bambi Molesters – As The Dark Wave Swells (Dancing Bear) Croatia (artist) Croatia (label)
–       Delorean – Subiza (Mushroom Pillow) Spain (artist), Spain (label)
–       Dubioza Kolektiv – 5 Do 12 (Menart) Bosnia (artist), Bosnia (label)
–       Efterklang – Magic Chairs (Rumraket/4AD) Denmark (artist), Denmark (label)
–       Bjørn Eidsvåg – Rundt Neste Sving (Petroleum Records) Norway (artist), Norway (label)
El Guincho – Pop Negro (Young Turks) Spain (artist), UK (label)
–       Caro Emerald – Deleted scenes from the cutting room floor (Grand Mono) Netherlands (artist), Netherlands (label)
–       Feloche – La Vie Cajun (Ya Basta) France (artist), France (label)
–       Field Music – Field Music (Measure) (Memphis Industries) UK (artist), UK (label)
–       Irie Rock Trio – Kickout  (CLS Music) Hungary (artist), Hungary (label)
–       Junip – Fields (City Slang) Sweden (artist), Germany (label)
–       Agnes Obel – Philharmonics (PIAS) Denmark (artist), Benelux/UK/France (label)
–       Paleface – Helsinki Shangri-la (XO Records) Finland (artist), Finland (label)
–       Skunk Anansie – Wonderlustre (V2 Benelux/earMUSIC) UK (artist), Benelux/Germany (label)
–       The Concretes – WYWH (Licking Fingers) Sweden (artist), Sweden (label)
–       The National – High Violet (4AD) USA (artist), UK (label)
–       Underworld – Barking (Cooking Vinyl) UK (artist), UK (label)
–       Various – Nonplace – 10th Anniversary Edition (Nonplace Records 2010/ Non28) Germany (artist), Germany (label)


More about IMPALA
IMPALA was established in April 2000 to help independent music companies represent their own agenda and promote the expansion and competitiveness of independent music in the interests of entrepreneurial and cultural diversity.
99% of Europe's music companies are SMEs. Known as the "independents", they are world leaders in terms of innovation and discovering new music and artists – they produce more than 80% of all new releases.