Mother Mother new music video and UK album release!
aaamusic | On 12, Mar 2011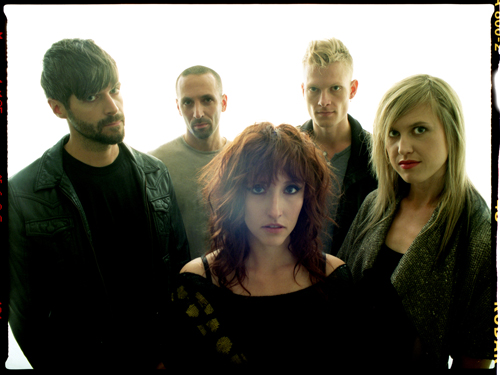 Mother Mother
New album 'Eureka' will be released 2nd May
Single 'The Stand' / 'Simply Simple' set for release 4th April
EUREKA, the third studio album from Canadian avante pop quintet MOTHER MOTHER, is the band's most tenacious and undaunted record to date.  Slated for a Last Gang Records UK release on May 9, 2011, EUREKA offers up eccentric, hook laden pop-meets-rock songs housed in creative arrangements with clever lyrics and intricate harmonies.
Produced by Mother Mother's own Ryan Guldemond and mixed by Mike Fraser (AC/DC, Franz Ferdinand, Elvis Costello), the 12 new tracks that comprise the album surpass their predecessors with a greater sense of cohesion, exuberance and overall sonic depth.  Guldemond, the group's chief songwriter and front man describes the album as "a vivid depiction of where the band's at right now, which is the height of our musicianship, song writing and strength as collaborators".
In the signature Mother Mother animal themed vein, EUREKA's cover art portrays a techni-coloured Lion, baring its teeth.  Female vocalist / synth player, Molly Guldemond (she and Ryan are siblings), is the resident artist in charge.  "Our new songs are bolder and more animated, so I chose to use vibrant neons and brighter colours than ever before," the multi-talented artist/musician reports.  "The word 'eureka' suggests epiphany and exciting discovery. The lion represents the animal instinct in us to pursue these breakthroughs; a predatory sense to hunt for deeper truth".
Although principally an upbeat collection of songs, the dark lyrical tone, a signature element of the MM package, is alive and well in the album's wordplay.  "The Stand", EUREKA's incredibly addictive lead off single is an urban hip hop tinged tale of a "misanthrope who corrupts the minds of two young school girls" as described by Ryan, who wrote most of the song in his head as a "silly rap style thing to bide time in transit".
Mother Mother – The Stand from Last Gang Records on Vimeo.
The album's first track, "Chasing It Down", laments the demise of the newness in things, while wearing the skin of an epic, Deep Purple-esque rocker, complete with a formidable organ hook.  The quintessential slow song, "Born In A Flash", might just be the band at its most haunting and morose ever as this piano driven heavyweight marches through a versatile landscape of lush strings, choral beegees, and a killer back beat and bass line.  "Simply Simple" is just that, a perfect advocacy of the 'less is more' doctrine, while the dreamy "Getaway", with Molly singing lead in her unique, gentle timbre, is the plight of an escapist.
With the release of EUREKA, Mother Mother is definitely poised to reach ground breaking heights and milestones, but that isn't to say an impressive legacy of international acclaim and accolades have not already been sung.  Their quirky, experimental debut, TOUCH UP, although not a mainstream success, perked the ears of many and marked the band as one to watch.  O MY HEART, the band's stellar sophomore release, was a more focused effort which received rave reviews, strongly securing Mother Mother as a relevant act in North America and abroad. Coming in at #1 in campus radio in Canada for 6 weeks straight, OH MY HEART was also rated the top 5 best overall album of 2008 on iTunes Canada, not to mention the 6th most added album on CMJ's Top 20 on release week.
Their first brush with mainstream radio success was that of the single "Body Of Years" which came in the top 10 at Canadian Alternative Rock and Modern Rock radio, and also landed them two 2009 Casby Award Nominations and a 2010 Canadian Radio Music Award Nomination.  Across the pond, critics and radio programmers alike continued in the trend of Mother Mother fandom.  The band's title track and first UK Single "O My Heart" went as far as capturing Record Of The Week on BBC Radio 2's Radcliffe & Maconie Show, subsequently garnering much support from Radio 2 and Radio 6 in the UK as well as inclusion in Q Magazine's Q50 for July 2010.
"Musically fearless, melodically inspired Canadians at their envelope-pushing best", says Q.  The notable Spin Magazine wrote "Mother Mother coos lovely boy-girl harmonies, masking their dire lyrics while slyly exulting in the cleansing blaze."
Mother Mother's notoriety stems not only from their knack at making great records, but also due in large part to their remarkable live show.  On stage, this group of five delivers a big sound, executing pristine vocal harmonies while utilizing a variety of multi-instrumental talents.  Ryan, wielding rhythm and lead guitar, sings lead in his unique, brazen falsetto, while the flanking vocal support of Jasmin Parkin and Molly, who both take on key and synth duties, complete the front line.  Jeremy Page on bass and horns, and Ali Siadat on drums and electronics round out the rhythm section to provide the music with an unbending backbone and multidimensional soundscape.
No stranger to life on the road, Mother Mother's relentless touring has built a large and dedicated fan base.  They've graced the stage with such artists as Weezer, Pearl Jam, Tokyo Police Club, The Decemberists and Spoon.  They've toured with Canadian rock institutions Sam Roberts and Matthew Good, and have performed on a diverse array of festival/showcase stages including SXSW, CMJ, The Great Escape, Liverpool Sound City, Pop Montreal, V-Fest, Ottawa Blues Fest, Ed Fest, Rifflandia Music Festival, both the Vancouver and Montreal International Jazz Festivals, and the 2010 Vancouver Winter Olympic Games concert series LiveCity.
Since the band's conception as an acoustic folk trio in 2005, they've since become a force to be reckoned with, reputed as an act who challenges the conventions of popular music, cultivating a sound all their own.  With substantial headway made in the US and Europe, Mother Mother continue to build on that momentum with EUREKA.  Keep an eye out for them in 2011, it's going to be a big year for Mother Mother.
Mother Mother @ SXSW in Austin, Texas
17th March – Lipstick 24 (2:30pm)
18th March – The  Speakeasy (2:00pm)
18th March – Swan Dive (11:00pm)
19th March – Upstairs at The Paradise Café (1:50pm)
1. Chasing It Down
2. The Stand
3. Baby Don't Dance
4. Original Spin
5. Born in a Flash
6. Simply Simple
7. Problems
8. Aspiring Fires
9. Getaway
10. Far in Time
11. Oleander
12. Calm Me Down