Something In Construction are publishing a book and having a party
aaamusic | On 30, Mar 2011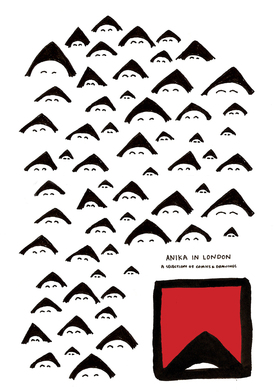 Something In Construction is proud to announce the release of their very first book!
On the 3rd of May they will be publishing 'Anika In London', a collection of autobiographical cartoons and drawings by 20-year-old Londoner, Anika Mottershaw. It's a peek into the adventures of her life, her musical loves (and occasionally hates) and the ups and downs of living in the Capital.
Her drawings and cartoons haven't caught just our eye either, Her offbeat style has captured the imagination of many. Anika's work has been seen recently via a great variety of media – illustrations on music sites such as The Line of Best Fit, commissions for the British Underground (her Folk Map Of Glastonbury), and her photography has been featured in publications from The Wall Street Journal to the Independent to NME's SXSW 2011 coverage.
You can see examples of her talent over at her website: AnikaInLondon.com
Check out her Darwin Deez clip (that already has almost 700,000 views)
Music has continuously influenced and inspired Anika's work, and it's our stock-in-trade at SIC, so contained within each book will be a 13 track CD curated by Anika (tracklisting below).
Last but not least, they're throwing a party to celebrate the release, where you'll be able to pick up a copy of the book before it's on sale anywhere else. It'll be at the Strongrooms in London on April 12th at 7pm. Playing at the launch will be the wonderful Peggy Sue, and Laura Hocking along with The Line Of Best Fit DJs, Wears The Trousers DJs, as well as FREE cake and shots, and much more amazing music to enjoy. Everyone's welcome just drop a lineto jess@somethinginconstruction.com to let them know you're coming.
The tracklisting of the compilation is as follows:
1. She Keeps Bees – Ribbon
2. The Antlers – Sylvia (An Introduction)
3. Parenthetical Girls – The Weight She Fell Under
4. Darwin Deez – Bomb Song
5. Sea of Bees – Wizbot
6. Creaky Boards – Brooklyn
7. Dark Dark Dark – Celebrate
8. Wood Pigeon – Home As A Romanticized Concept
9. Common Prayer – Us Vs Them
10. Cryptacize – Blue Tears
11. Tasseomancy – Healthy Hands
12. Scary Mansion – Go To Hell
13. Wildbirds & Peacedrums – My Heart