Introducing Pose Victorious
aaamusic | On 31, Mar 2011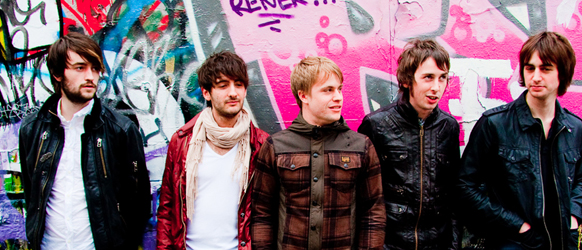 Hailing from Scotland, Pose Victorious were formed in 2009 and are comprised of former roommates Ross Millar (vocals), Jack Rowberry (lead guitar), Gordon Barclay (rhythm guitar), Gavin White (drums) and Jordan Laird (bass). They were taken under the wing of veteran producer Owen Morris (Oasis, The View), culminating in the release of their self-titled debut EP in late February 2010. Since then, the boys have been touring the UK, setting a fire under the press and gaining comparisons to indie legends such as Glasvegas and New York garage rockers, The Strokes.
Their free single Cold Hands//Warm Heart is released by Angle Park Records today (28th March 2011), and it really wastes no time – Ross' vocals and guitar kick-start the song, in a manner reminiscent of a lone busker on a frozen high street. Then, with a snatch of drums and a lick of electric guitar, the song descends into a fluid and sumptuous chorus. Broken down into its' elements, the track showcases a band who are comfortable enough to follow their own route through the melody, letting each part add its own unique flavour to the songs dynamic – whether it's the discord of the electric guitar, the syncopated hi-hat or the pumping rhythm of the bass, they all melt together to create an outstanding and accomplished sound.
Pose Victorious – Cold Hands//Warm Heart by abadgeoffriendship
The boys also plan to set the country ablaze over April and May, with a UK tour to celebrate the launch of their forthcoming EP, Beneath The Lighthouse. The tour sees them playing alongside indie giants Razorlight, as well Johnny Foreigner and The Ray Summers, so you can be sure that these shows will raise their profile to new dizzying heights.
With their second EP, Beneath The Lighthouse, due for release on 6th June 2011, this single is the perfect introduction to the band.