HELP STAMP OUT LONELINESS : free download single "Record Shop". Debut album out in May
aaamusic | On 04, Apr 2011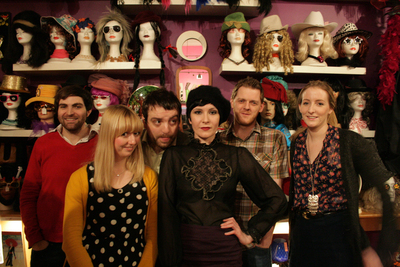 Where Its At Is Where You Are and Papillons Noirs are proud to present the heart-poundingly beautiful and insanely catchy, RECORD SHOP, taken from the eponymous debut LP from Manchester sublime sextet Help Stamp Out Loneliness, due out in May.
direct link:
https://www.yousendit.com/transfer.php?action=download&ufid=MEtUeW44cklHa05jR0E9PQ
Fronted by the striking, Nico-esque singer D. Lucille against glittering backdrop of transistor organs and jangle-pop guitars, the alluringly seductive Record Shop tells a story of rock-star stalkers inspired by Sandra Bernhards character from Scorseses 'King of Comedy'.
Released as a free single, RECORD SHOP will become the perfect soundtrack to Record Store Day, on April 16th… Play loud… VERY LOUD
The album (co-produced by Woodie Taylor (Comet Gain, Morrissey) and Craig Gannon (Aztec Camera, the Smiths), no less) is available for pre-sale via the WIAIWYA website.
Also mentioned in The Guardian this morning… " the most addictive indiepop track I've heard since Camera Obscura's Lloyd, I'm Ready to Be Heartbroken: hi-gloss pop driven by an urgent rush to empathise"

http://www.guardian.co.uk/music/2011/mar/31/film-and-music-playlist
Catch them live here:
Saturday 07 May – Chameleon Arts Café, Nottingham
Sunday 08 May – The Victoria, Dalston, London (w/ One Fathom Down, Horowitz, Baaneex, and more)
Thursday 14 May – Gullivers, Manchester