MAZES 'A Thousand Heys' debut out Monday + Camden Crawl + Stag & Dagger shows announced.
aaamusic | On 06, Apr 2011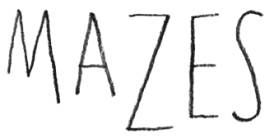 THE VICTORIA Album launch headline Thurday 14th May
CAMDEN CRAWL Sunday 1st May
STAG & DAGGER London Thursday 19th May, Glasgow Saturday 21st May
"Crackles with vitality" **** Mojo, April
"A brilliant illustration of brains as well as brawn" ****The Fly, April
"A lesson in patience and not following the crowd you are in" 8/10 Loud & Quiet, April
'A Buddy Holly-goes-Ramones surf-pop gem' – Guardian Guide, 8th April
'What more could you want?' Dazed & Confused, April
'A Thousand Heys' (FatCat, 11th April) captures the excitement and fizzing energy of a band still in day-jobs with everything in front of them. And, by taking 10 instead of the usual one – maybe two – days to record, it delivers that energy sounding like one of the freshest, most life-affirming collections any of us are going to hear this year.
Spotifay! The Mazes sampler is now live http://open.spotify.com/artist/5skcpHij94SN3ekTzC89a1
Podcast! Listen to Jack and Conan pick out their favorite tunes, new and old from artists such as Tall Dwarfs, Dirty Beaches and Arthur Russell – 18 tracks to enjoy here http://www.mixcloud.com/fatcatrecords/fatcat-records-podcast-mazes-mix-2/
Mazes talk to VBSTV about recording the album onboard a boat on the Thames here: http://www.vbs.tv/tigerfound/found-lightship-95-episode-1
Special limited vinyl version of Paradise Vendors/Italian Beach Babes Compilation 12″ (orginally avaliable on tape including Mazes own thirty second punk thrash 'Painting of Tupac Shakur') will be made avaliable for Record Store Day
Supporting Dum Dum Girls, March 31 – April 6
31-Mar-11 Manchester Deaf Institute
01-Apr-11 Dublin Whelans
02-Apr-11 Belfast Belfast Film Festival @ The Black Box
03-Apr-11 Glasgow Stereo
04-Apr-11 Leeds Brudenell Social Club
05-Apr-11 London Dingwalls
06-Apr-11 Brighton The Komedia
14-Apr-11 London, Dalston The Victoria
27-Apr-11 Manchester Deaf Institute (supporting Times New Viking)
28-Apr-11 Sheffield Queens Social Club (supporting Best Coast)
29-Apr11 York, Stereo
30-Apr-11 Live at Leeds