Designforms to release South Swell EP April 19th with tracks from Luis Miolaro, Germano Kuerten, and Ricardo Morandini
aaamusic | On 19, Apr 2011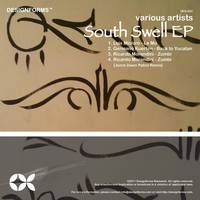 We're proud to introduce our newest client – the long-running and respected Los Angeles based imprint Designforms, celebrating a decade of releases in 2011. Over the past ten years the label has had released from well-known artists such as Lucas Rodenbush, Titonton Duvante, and Mikael Stavoestrand.

The South Swell EP brings an organic groove with four tracks that pull from different lights in dance music. Each artist currently lives in Los Angeles that gives the compilation a very West Coast  vibe. Le Mu takes you back to an early NYC club night, Back To Yucatan evokes the tropical summertime feel of the Mayan Riviera, Zumbi tells a political story in a time of debate, and Designform chief Jonra's Dawn Patrol Remix has a deep groove and a heavy production value. This kind of music is made for great sound systems.
TRACKLISTING:
01 Luis Miolaro – Le Mu
02 Germano Kuerten – Back To Yucatan
03 Ricardo Morandini – Zumbi
04  Ricardo Morandini – Zumbi (Jonra Dawn Patrol Remix)
ABOUT DESIGNFORMS:
Designforms Research is more than just music; it is a peek into the mind of the electronic future. With aspects of art, sound and mind. We give you an insight to the mind of electronic music. Created by Jonra Babiracki in 2001, "I was trying to bring together sounds of many different cities and artists into one forum in LA."
"We are often replicated but never close to duplication" says Jonra. "But all others who try to do the same thing that we are just don't seem to hit it. We are LA.. many of the people involved with this project have been doing things in LA and abroad for over 15 years. We pride ourselves on having our own style our own sound and going against the latest trend, doing something outside the box, not just being another 'CLONE' in the LA scene."
"I think we have had more first time artists than any other production crew in town and we will keep pushing that in the years to come. Stay tuned — we have not even started yet…" The Designforms mission is to reach out to people who are in tune with the sound we are pushing. With the launch of the digital branch of the label we will be sticking to a heavy release schedule. Featuring a lot of fresh faces, coming out of the LA underground along side some international players as well.
Designforms is focused on bringing the most cutting edge agresive sounds in electronica to the dance floor.
ABOUT LUIS MIOLARO:
Luis arrived in L.A. December 2004 to pursue his dream of becoming one of the top DJs in the world. Since 2005, he has been playing the major clubs in the west coast and is currently on the summer 2010 tour as the resident DJ for Made in Brazil. Up next a 2011 Tour including New York, Miami, Brazil, Mexico, Argentina, Spain and Dubai amongst to others.
ABOUT GERMANO KUERTEN:
As stated by Colombian producer Obando owner of Malicious Smile Records; "His name Germano Kuerten, a new emergent talent who bring us a new edge on house music. The name of the EP 'Flight To Brazil' is all you can expect, a full journey to the Latin roots, returning to basic house instruments like the Sax, and making the percussions the leading line on his tracks, Germano is making us shake our booty on every beat". The release got support from major names like Roger Sanchez, Miss Nine and Android Cartel to name a few.
Already with a very busy schedule Germano has performed in major festivals and events around US, like Burning Man in Nevada and the Avalon in Los Angeles. He is also a resident of LA Hidden long side good friends Luis Miolaro and Android Cartel.
ABOUT RICARDO MORANDINI:
Ricardo Morandini is a young Producer and Dj working out from his São Paulo based studio. As a DJ, Ricardo began his career in 2006, after that he gained experience and played in major events in Brazil, impressing the most respected DJs due to his age and his seriousness about music. In the beginning of 2009 Ricardo started a new journey, moving from Brazil to Los Angeles to study Audio Engineering at SAE Institute, which is one of the most respect audio school in the world, taking his career to a higher level. His music is known for mixing acoustic and electronic elements in a way that blended together they become a grooved and soulful music.