ATP Animal Collective Fest Mixtape Vol 2 released, Book Comp, Cinema & Installations announced
aaamusic | On 20, Apr 2011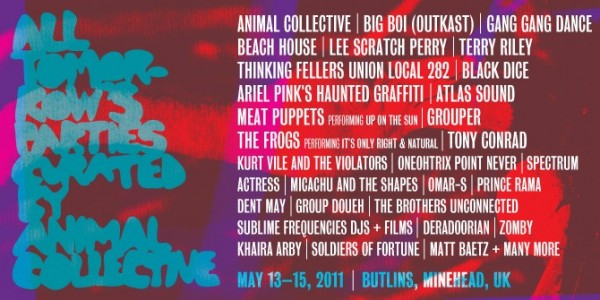 Volume 2 of Animal Collective curated ATP Mix Tape released,
Book Club Competition, Cinema & more announced for
All Tomorrow's Parties curated by Animal Collective
13-15 May, Butlins Holiday Centre, Minehead
MIX TAPE VOLUME 2
The Animal Collective curated ATP is looming large and we're excited today to release Volume 2 of the very popular mix tape. Curating and headlining the festival weekend this May, the band have chosen from amongst their collaborators and influences to bring together one of the most diverse and culturally important mixtures of live music ATP has seen in recent times. The event features an array of acclaimed acts including Big Boi of Outkast, Beach House, Terry Riley, Gang Gang Dance, Kurt Vile, Meat Puppets, Ariel Pink's Haunted Graffiti and The Frogs and many many more. Tickets on sale now via www.atpfestival.com
Last month to celebrate the stunning line-up, ATP released a free 2 hour MP3 Mix Tape website featuring music from many of the artists picked by Animal Collective and now we release Volume 2, an additional downloadable mix featuring more of the line-up including Atlas Sound, Omar-S, Oneohtrix Point Never and Terry Riley – available via http://www.atpfestival.com/assets/acmix/index.html
As previously announced we will be discussing Siddhartha by Herman Hesse at the weekend's ATP Book Club. Penguin have kindly donated several copies of the book so anyone interested in participating in the book club who hasn't read the book yet should email atpbookclub@gmail.com with their booking reference to register their interest and claim a book. Please include your address, or better yet whether you will be attending one of our upcoming shows so we can hand you your book in person.


We also have a prize pack of 5 books courtesy of Ten Speed Press and Penguin including Mycelium Running, a manual suggesting growing more mushrooms may be the best thing we can do to save the environment, The Story of the Stone (Dream of the Red Chamber) a rich, magical work setting worldly events within the context of the Buddhist understanding that earthly existence is an illusion and karma determines the shape of our lives, Les Chants de Maldoror, one of the earliest and most astonishing examples of surrealist writing, hailed by the twentieth-century Surrealist movement as a formative and revelatory masterpiece, The Essential Rumi, exquisite renderings of the 13th-century Persian mystic's words into American free verse by Coleman Barks capturing all the "inner searching, the delicacy, and simple groundedness" that characterize Rumi's poetry while remaining faithful to the images, tone, and spiritual message of the originals and of course Siddhartha, the classic novel by Herman Hesse that deals with the spiritual journey of a boy known as Siddhartha from the Indian sub-contintant during the time of the Buddha.
To enter to win these 5 books, you must be attending the festival and correctly answer the following competition question via email to atpbookclub@gmail.com :
Question – Which Hesse novel does the magic theatre appear in?
Book prizes will be available for collection at the event.
Animal Collective have chosen the following books for their event's reading list:
The Story of the Stone (Dream of the Red Chamber) – Cao Xueqin
The Silent World – Jacques Cousteau
Le Voyeur – Alain Robbe-Grillet
Siddhartha – Hermann Hesse
Chita – Lafcadio Hearn
Les Chants de Maldoror – Comte de Lautreamont
Mythologies – WB Yeats
Mycelium Running – Paul Stamets
The Unnatural History of the Sea – Callum Roberts
The Essential Rumi – Jalal al-din Rumi (translated by Coleman Barks)
WET SOUNDS and A HISTORY OF SOUND ART INSTALLATIONS
ATP can also confirm for the event:
WET SOUNDS – underwater deep listening installations at the Butlins Pool with 2 sets of over water and 1 of underwater sound systems, effectively creating three levels of sound for a floating and diving audience. Fully immersed in sound, the experience is incredibly clear and intimate "…like being in the womb". Joel Cahen plays a surreal abstract mash up / collage in duet with La Horrox. For more info see www.wetsounds.co.uk
A HISTORY OF SOUND ART – an engaging sound collage presenting an unique historical documentation of Sound Art from the early 20th century to present day. The composition weaves through different sound works throughout the century with narratives and ideas from some of the prominent artists in the field. It is an insightful retrospective into the craft of sound and its development as an artistic practice, from Edison's first sound film in 1895 to today. Composed and Arranged by J Milo Taylor. Mixed by Joel Cahen.
ODDSAC SCREENING & CINEMA PROGRAMME
As part of the Animal Collective curated free Cinema programme we can confirm a screening of Oddsac – A visual album by Danny Perez and Animal Collective which has received stunning reviews over the last year.
Other films confirmed (with more to be added) are Nicolas Roeg's classic Don't Look Now, recently rediscovered Japanese cult sensation Hausu, Akira Kurosawa's Jiguko, Masaki Kobayashi's incredible quartet of Japanese ghost stories Kwaidan, Peter Weir's The Last Wave, 1970s Australian thriller Long Weekend, Powell & Pressburger's classic A Matter Of Life And Death and Andrzej Zulawski's cult former video nasty Possession. We can also present a trio of films from the Sublime Frequencies record label – Staring into the Sun (in which photographer/filmmaker Olivia Wyatt explores 13 different tribes throughout Ethiopia), Land of the Songhai (Hisham Mayet's latest film exploring the music and landscape of Songha country, around the Niger River in Western Niger) and Musical Brotherhoods from the Trans-Saharan Highway (capturing an assortment of spectacular musical dramas presented live and unfiltered on the home turf of the world's most dynamic string and drum specialists "performing and manifesting the ecstatic truth.")
The completed line-up for the event looks like this…
ANIMAL COLLECTIVE / BIG BOI (Outkast) / BEACH HOUSE / TERRY RILEY / THINKING FELLERS UNION LOCAL 282 / GANG GANG DANCE / LEE SCRATCH PERRY / ATLAS SOUND / ARIEL PINK'S HAUNTED GRAFFITI / BLACK DICE / MEAT PUPPETS perform Up On The Sun / THE FROGS perform It's Only Right & Natural / OMAR-S / PRINCE RAMA / SPECTRUM / DENT MAY / GROUP DOUEH / THE BROTHERS UNCONNECTED / DERADOORIAN / ZOMBY / VLADISLAV DELAY / MICACHU AND THE SHAPES / TEENGIRL FANTASY / DRAWLINGS / TICKLEY FEATHER / ORTHRELM / ERIC COPELAND (Black Dice) / KRIA BREKKAN / THE ENTRANCE BAND / HIGHLIFE / EAR PWR / FLOATING POINTS / MICK BARR / SUBLIME FREQUENCIES DJs + Films / TONY CONRAD / GROUPER / KURT VILE AND THE VIOLATORS / ONEOHTRIX POINT NEVER / ACTRESS / KHAIRA ARBY / MATT BAETZ / SOLDIERS OF FORTUNE
Tickets for ATP Curated by Animal Collective are priced at £170.00pp for room only and £180.00pp for self catering and are on sale now from www.atpfestival.com
THIS THURSDAY APRIL 21ST BEFORE THE BANK HOLIDAY WEEKEND –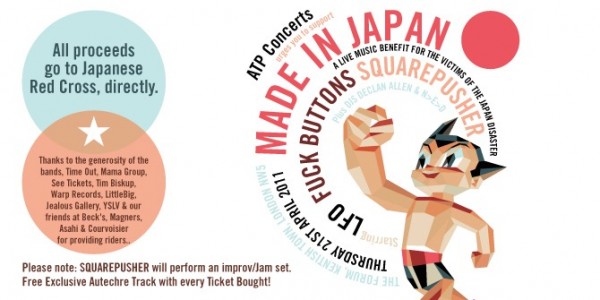 MADE IN JAPAN – A Benefit Concert For The Victims of the Japan Disaster
featuring Squarepusher + LFO + Fuck Buttons + DJs Declan Allen & N>E>D
RAFFLE PRIZE LIST UPDATED! Now Over 250 Items!
On Sale Now via www.atpfestival.com – All Profits Go To The Japanese Red Cross
ATP urges you to support the victims of the Japanese disaster – this coming Thursday 21st April before the bank holiday, we are holding a Benefit Concert at London's Kentish Town Forum – all of the profits from which will go to the Japanese Red Cross and will be used towards helping the Japanese people recover from this devastating natural disaster over the coming months and years. The event has a stunning line-up featuring Squarepusher (playing a special improv/jam set), LFO and Fuck Buttons as well as guest DJs Declan Allen and N>E>D.
The crisis is ongoing and will be for a long time. Tickets are still available – please help to spread the word to as many people and places as possible to make this event a success and make as much money as possible for the Red Cross. At the show we will also be holding a huge raffle in which some amazing prizes will be up for grabs. All proceeds go to the Red Cross.
We previously confirmed donations from our friends at 4ad, Constellation, Bella Union, Eat Your Own Ears, Mute, Warp, Kobalt, Soundcloud, Matador, Sub Pop, Backstreet Merch, EMI, Domino, Southern, Wichita, Rough Trade East, and Portishead, plus we'll be putting in loads of great ATP tickets and records. Now we can also add donations from Club AC30, Pitchfork, The Quietus, Universal, EC1 and Mogwai!
Here are just a few of the items donated and we'll be adding more to the list as they come in so keep an eye on our website. Some highlights include…
Spiritualized Box sets, rare ATP posters, clothing, records & chalets for forthcoming ATP festivals
Mogwai box sets from Kobalt publishing plus from the band themselves a signed Hardcore box set and Mexican GP test pressing
Premium account from Soundcloud
Loads of rare vinyl and cd releases from Matador and 4AD
Sub Pop Nike trainers, hat and slipmat
Box sets, Vinyl and CDs from the EMI back catalogue
Loads of great records, shirts and some Record Store Day exclusives from Domino
Rare merch and releases from Portishead
Box sets from Universal including Velvet Underground, Sugar Hill and Def Jam
Tickets to the sold out Pitchfork Festival in Chicago
Thanks to everyone that has donated prizes and thanks to our friends at Beck's, Magners, Asahi & Courvoisier for providing riders for the event.