Introducing H.S.A.T.D.
aaamusic | On 19, Jul 2010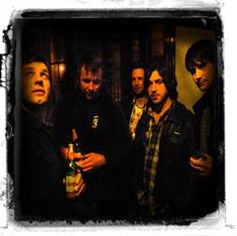 Make room on your mp3 players as bursting onto the UK rock scene come new sensation H.S.A.T.D. or to give them their full title 'HORSEMAN, SHAKES AND THE DRAYMEN'.
Their long awaited second E.P is finally released today available via stream on their myspace page and by download via 7 Digital's Indiestore: http://indiestore.7digital.com/hsatd Included is FREE DOWNLOAD 'The Burn' – a soaring riff-driven track infused with hefty beats that to date has proved an ultimate live favourite with fans.
H.S.A.T.D. are Alex 'Bill Shakes' Small (Lead Vocals), Rob 'Horseman' Muir (Lead Guitar), Dom Notarangelo (Rhythm Guitar), Olie Campbell (Bass Guitar), and Dan Jack (Drums).  With ambitions to climb the industry ladder all the way to the top, H.S.A.T.D. defy any easy pigeonholing with their unique musical style, probably best described by lead vocalist Alex Small – "We're a juggernaut of heavy bluesy rock mixed with hefty bass and lots of melodies. Imagine Pearl Jam being molested by Led Zeppelin." Ouch!
The tracklisting for the new E.P is:
Rivalry (Remastered 2010)
Vultures Circle
The Burn
Listen Kitten
To witness first hand one of H.S.A.T.D.'s infamously quaking live performances' get down to their special London showcase gig at The Good Ship, Kilburn on SATURDAY 31ST JULY.
Other new showdates recently confirmed include their HEADLINE slot at this year's Buckingham Music Festival on Sun 29 August, the legendary Monto Water Rats Theatre in Kings Cross on Sat 4th September, and The Barfly, Camden on  Sat 23rd October.
More gig dates, photos, and news on their upcoming studio album are continually being updated onto the band's myspace page: www.myspace.com/horsemanshakesthedraymen