True Tiger ft. Professor Green & Maverick Sabre – 'In The Air'
aaamusic | On 02, May 2011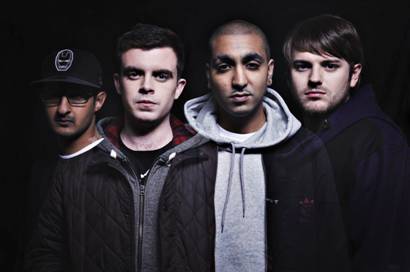 True Tiger are set to release their new single, 'In The Air' featuring Professor Green and Maverick Sabre on 12th June 2011 .
Forget what you think you know about current club music, because True Tiger are ready to turn it on its head and send it spinning across the floor. If there is a group of musicians who better represent the potential of 21st century British music to expand in all directions better than Stanza, Sukh Knight, Blue Bear and Gowers, we'd like to see them; entrepreneurial, independent of spirit and culturally open, this collective of four distinct and distinctive personalities are not beholden to the past in any sense, nor to any current scene. They are of the generation that watched the dubstep and grime scenes forge their own sounds and identities from their own localities, and are inspired by that to do precisely the same: to take from their lives and whatever is around them and create something completely of the now, and completely for the people.
True Tiger draw on experiences that take in the pirate radio stations of UK garage, the dark dancefloor of FWD>> and the raging moshpits of Essex heavy metal gigs, immersion in East End bhangra beats, Hendrix and the Aphex Twin, and somehow find the linking points, and find a coherent identity of their own. Yet they are never, ever about "fusion", nor about some indiscriminate mish-mash of influences in an attempt to be all things to all people. Rather, they are simply four young men of discriminating tastes and a passion for particular sounds who have learned through trial and error what will move a crowd in any given situation. And whether tearing up arena gigs in support of Enter Shikari or being blasted from the biggest bassbins with their beats for P Money and Professor Green, they have already proved beyond a shadow of a doubt that they can do exactly that.
Their previous singles 'Slang Like This' with P Money, and Tiger-produced 'Jungle' by Professor Green (voted Best Dancefloor Filler NME Awards) show that they are just as in touch with their pirate radio and rave history as they are with crossover audiences.  They show that those musical first cousins grime and dubstep are still not so very far apart and stand as a proud representation of the brilliant cultural collisions that make modern Britain so exciting and creative as we move into the second decade of the millenium.
The guys have teamed up with Professor Green and Maverick Sabre once again for the immense True Tiger track 'In The Air' which adds a whole new level of dancefloor heft to the urban pop template which has been taking over the charts in the last couple of years. The guys are working on their debut album, and with young stars from the underground…Tinchy Stryder to Katy B, Dizzie Rascal to Magnetic Man… breaking through into the mainstream on a regular basis, True Tiger are ready to take their comprehensive schooling in that underground and make some of the most important pop cultural statements of the new decade.
www.truetiger.org/
www.facebook.com/truetigerofficial
www.twitter.com/TrueTiger
www.youtube.com/truetigertv