ATARI TEENAGE RIOT make rare UK performance & debut Artrocker cover
aaamusic | On 16, May 2011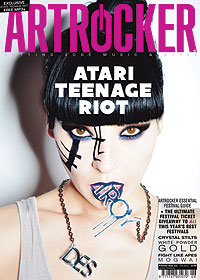 ATARI TEENAGE RIOT
MAKE DEBUT ARTROCKER COVER APPEARANCE
TO CELEBRATE ARTROCKER PRESENTS A RARE UK APPEARANCE!
LONDON'S ISLINGTON ACADEMY ON 12 MAY 2011
www.artrocker.tv
To coincide with their debut appearance on the front cover of Artrocker Magazine, Atari Teenage Riot will be making a rare UK live appearance at an Artrocker Present show at London's Islington Academy on 12th May 2011. The band is also giving away an Artrocker EXCLUSIVE MP3 of 'Shadow Identity', which gives an exclusive first listen for fans of what they can expect on the new Atari Teenage Riot album, 'Is This Hyerreal', which drops this summer.
The EXCLUSIVE MP3 track also includes a forward from Atari Teenage Riot legend Alec Empire, who says of the track: "We wrote this song when we heard about the German police installing Trojan horse software on the computers of ordinary citizens."
Issue 111 of Artrocker hits WHSmith and all good independent newsagents on 6th May 2011, as well as being available as a digital edition on the same day.
Visit www.artrocker.tv for the latest updates on the gig and exclusive MP3.
12 May 2011
Islington Academy
Special guests include a DJ Set from The Big Pink and live sets from FOE and Kap Bambino
BUY Tickets from: http://www.o2academyislington.co.uk/event/23770/atari-teenage-riot-tickets/ArtistsDetails