NEIL COWLEY TRIO with Polar Bear Tuesday 21st June 2011
aaamusic | On 07, Jun 2011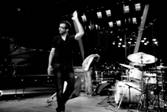 Shifting effortlessly between impassioned moments of sweet, heartfelt beauty, and rip-roaring riffs of incredible intensity, Neil Cowley delivers his show with a witty banter that would give any stand-up a run for their money. Firmly established as one of the UK's most exciting live bands, the Neil Cowley Trio return to the capital to play their only 2011 London date.
Pianist and composer Neil Cowley creates music that is elegant, joyful, muscular, intricate and above all, powerful, and in concert, his "jazz meets inde rock ethic" is accompanied by a certain British playfulness and brash dynamism that is always out in full force. Of his recent show at the Cheltenham Jazz Festival, Jazwise reported "the pianist has a great way with the audience and his compositions have a zest and urgency that leave you wanting more."
Performs tracks from last year's release 'Radio Silence' alongside other Cowley classics, Cowley is joined by his long-time bandmate Evan Jenkins on drums, and Rex Horan on bass.
"their most cohesive offering to date … dynamic … seismic… and delicately lyrical… EST on steroids with the attitude of Motorhead" (Record Collector)
"jazz for people who don't think they like jazz"(The Times)
"The musicianship was stunning …a very exciting live experience with music building and building until it reached a feverish climax….pretty darn good! (Subba Cultcha)
Neil Cowley Trio performs in this exciting double–bill with one of the UK's most arresting, highly acclaimed experimental jazz acts, Polar Bear. Led by enigmatic drummer Seb Rochford their feisty, edgy mix of hypnotic grooves, free improv and electronics has won them fans from across the musical spectrum.