Kate McGill to do UK Café Nero tour
aaamusic | On 31, Aug 2011

KATE MCGILL'S CAFFÉ NERO TOUR

Plymouth singer / songwriter Kate McGill may not be a familiar name to many of you yet, but with 22 million video views on You Tube and a fanbase extended by the Tesco-sponsored platform 1Click2Fame, she's certainly not unknown. She is the future.
She's releasing her limited edition album Replaced in a quirky way. Kate has been granted an amazing opportunity by Caffè Nero, who will be supporting her by exclusively offering her album 'Replaced' with a limited edition book in 470 of their stores nationwide, available from 26th September. For the lucky few that buy her album, they'll also get a free cup of coffee thrown in.
For everyone else, the album will be released digitally through iTunes and other stores, also on the 26th of September.

Keen to take the UK by storm, Kate will also be giving fans the chance to see her perform live across 34 Caffè Nero stores from 26th September to 20th October. Caffè Nero themselves say that they've never experienced such a high level of interest in their music projects, which bodes well for Kate's imminent super stardom.
A few basic details about Kate:
·      She has over 128,000 subscribers on YouTube, with over 22 million views
·      Over 43,000 Facebook likes
·      15,000 Twitter followers
·      Thanks to the power of YouTube she is already an international artist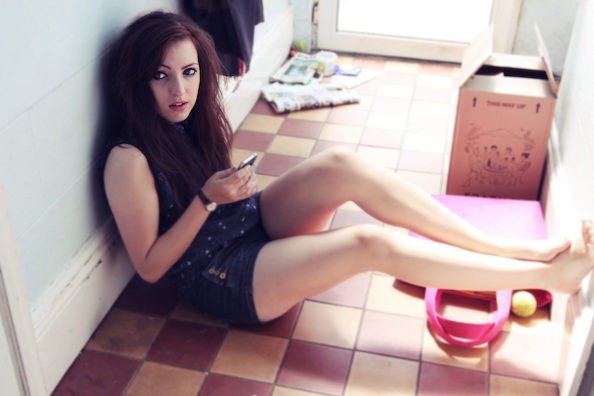 All Caffè Nero:
26-Sep-11 Exeter High Street Café Nero 2.30pm
26-Sep-11 Plymouth High Street Café Nero 6.00pm
27-Sep-11 Bath High Street Café Nero 6.00pm
27-Sep-11 Tauton Café Nero 2.30pm
28-Sep-11 Bristol Union Street Café Nero 6.00pm
29-Sep-11 Cardiff Duke Street Café Nero 6.00pm
29-Sep-11 Newport Café Nero 2.30pm
30-Sep-11 Gloucester Café Nero 6.00pm
30-Sep-11 Hereford Café Nero 2.30pm
1-Oct-11 Birmingham Waterloo Street Café Nero 6.00pm
1-Oct-11 Oxford High Street Café Nero 2.30pm
3-Oct-11 Chester Eastgate Café Nero 2.30pm
3-Oct-11 Liverpool Whitechapel Café Nero 6.00pm
4-Oct-11 Edinburgh Lothian Road Café Nero 2.30pm
4-Oct-11 Glasgow Union Street Café Nero 6.00pm
5-Oct-11 Aberdeen Rose Street Café Nero 6.00pm
7-Oct-11 Ballymena  Café Nero 2.30pm
7-Oct-11 Belfast Fountain Street Café Nero 6.00pm
8-Oct-11 Dublin Academy 2 12.30pm
11-Oct-11 Manchester Deansgate 1 Café Nero 2.30pm
11-Oct-11 Manchester Cross Street Café Nero 6.00pm
12-Oct-11 Middlesborough Café Nero 2.30pm
12-Oct-11 Newcastle Clayton Street Café Nero 6.00pm
13-Oct-11 Wakefield  Café Nero 2.30pm
13-Oct-11 York Coppergate Café Nero 6.00pm
14-Oct-11 Harrogate Café Nero 2.30pm
14-Oct-11 Leeds Park Row Café Nero 6.00pm
15-Oct-11 Derby Café Nero 2.30pm
15-Oct-11 Nottingham Angel Row Café Nero 6.00pm
17-Oct-11 Cambridge Kings Parade Café Nero 2.30pm
17-Oct-11 Norwich Gentlemans Walk Café Nero 6.00pm
18-Oct-11 Eastbourne Café Nero 2.30pm
19-Oct-11 Bournemouth Christchurch Café Nero 2.30pm
19-Oct-11 Guildford High Street Café Nero 6.00pm
20-Oct-11 London Haymarket Café Nero 6.00pm