AUTOKRATZ PRESENT BAD LIFE – NEW EP & LIVE SHOW
aaamusic | On 05, Oct 2011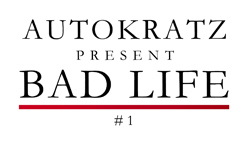 AUTOKRATZ PRESENT BAD LIFE – NEW EP & LIVE SHOW
A new project for autoKratz dancefloor bombs
autoKratz are back with a banging new Future-Techno EP and live show – dancefloor bombs that embody why they started making music.
The bastard offspring of their collaboration with Primal Scream and New Order was somewhat of a child prodigy. Self Help For Beginners scored international success and many 'album of the month' accolades.
But since then, their schizophrenic tendencies kicked back in, and the unquenchable thirst for making banging electronics returned. This has given birth to Heart Attack Man and Sucker Sirens; two tracks that embody the reason why they started making music.
They spent the summer immersed in vintage CJ Bolland, the shreds of tape that Attaque had left on the Bad Life studio floor and enough pills to fuel the Berghain for a full week.
It inspired autoKratz to propel themselves back to the vanguard of future techno. The new live show debuted last Friday night at Tunnel club in Milan, and it went off in a big way.
So here is "autoKratz presents Bad Life #1", the first in a string of EP's of formidable battle weapons for the dancefloor with big remixes to come from Tai, Lazy Ants & more.
Style of Eye: Big Support!
NT89: Love it! I'll be playing both
Lee Mortimer: Proper Jackin'!
Jaymo (BBC R1): Niiiiiice! This one's for the 4am crew!
Attaque: Makes my studio into a warehouse. Perfect for my set at the mental health inmates party.
John Roman: Both huge club bangers
Don Rimini: I love them!
Maelstrom: Funny & Rough – big tracks indeed!
info@bad-life.com