Emmy the Great and Tim Wheeler Presents… This is Christmas
aaamusic | On 20, Nov 2011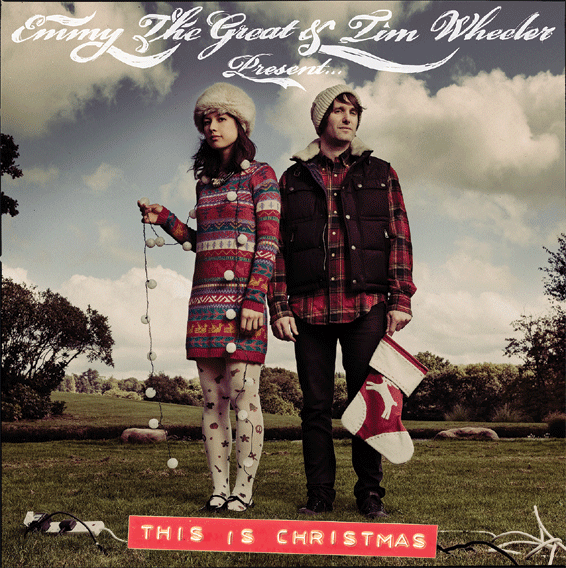 Christmas just wouldn't be Christmas without the colourful fairy lights, mulled wine and ubiquitous festive tunes. If you are searching for some fresh, new melodies to get you into the Christmas spirit, Emmy the Great and Tim Wheeler (Ash) could be the perfect fit for your stocking, with their collection of nine new tunes (and one cover version).
Emmy and Tim's songwriting styles and vocal harmonies complement each other throughout the recording. There are some real gems on this album, but you have to be willing to leave your cynicism at the door, and accept that kooky sentimentalism is not always a bad thing. (Don't call me) Mrs Christmas has such an infectious melody you'll be singing along after the first listen, and Christmas Moon has the feel of a timeless classic. At times the vibe can be more sickly-sweet than a Christmas pudding – but this is a festival album after all, and so lyrics like "snowflakes on my eyelashes, hiding my tears" and "don't get caught beneath the mistletoe, at the Zombie Christmas" just add to the charm. Consequently, the cover song, Marshmallow World, with its statement "It's a Marshmallow world in the winter" seems the perfect companion to Tim and Emmy's compositions.
Sleigh Me (with its kitsch sleigh bell intro) was the catalyst for the whole album. Emmy and Tim transformed the frustrating situation of being snowed in, into something inspirational. They decided to use the time to write their first Christmas track. After the melodic Sleigh Me was completed, the project snowballed (sorry, couldn't resist the pun!) and led to the collection of songs which make up this album.
Musically there are plenty of different styles. Snowflakes has the sound of an 80s power ballad, whilst Christmas Day (I wish I was surfing) is such a fine example of pop/rock, it could have sat quite comfortably on an early Ash album. Their first single Home for the Holidays is perfect pop, whereas the final tune See you next Year is a stripped down, acoustic track, and really highlights the songwriting prowess of the duo.
With catchy tunes and festive nostalgia, Emmy the Great and Tim Wheeler take the humbug out of Christmas… and offer a Marshmallow World instead!
Samantha Edgley