A Place To Bury Strangers announce new EP in February
aaamusic | On 11, Jan 2012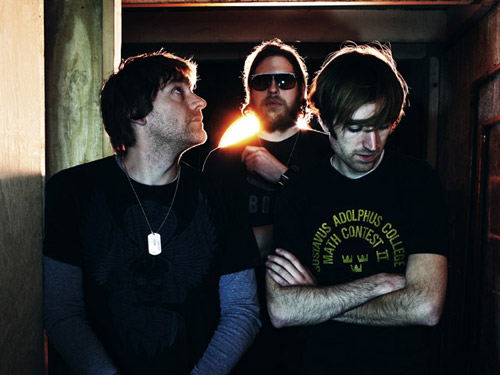 A Place To Bury Strangers are proud to announce their Dead Oceans debut release, Onwards To The Wall. The EP contains five brand new, pummelling tracks that will melt the smile off a listener's face.
To get a first taster, EP track "So Far Away" can be downloaded for free here:
http://www.scjag.com/mp3/do/sofaraway.mp3
"So Far Away" takes all the pure pop perfection of The Box Tops' "The Letter" and shoots it through with a barely-harnessed dark energy and snarling propulsion.
Onwards To The Wall packs every bit of the searing sonic maelstrom listeners have come to expect from APTBS. Produced, engineered, mixed and mastered by APTBS themselves, this is the sound of a band in control of making out-of-control music. Now joined by bassist Dion Lunadon, formerly of The D4, lead singer and guitarist Oliver Ackerman has found a crucial companion in pulling timeless melodies from their jet engine textures. The adroit songcraft that's always been there is brought to the fore, with familiar pop hooks repurposed for maximum carnage. A handful of contemporary bands are currently exploring the new limits of loud. Here, APTBS proves that they have not only been leading that charge, but that they are also evolving and maturing on those front lines.
Onwards To The Wall is a fresh, complete artistic statement from APTBS. It's a new chapter, a prelude for what awaits us on the horizon. It is a taste of greatness to come.
Tracklisting:
1. I Lost You
2. So Far Away
3. Onwards To The Wall
4. Nothing Will Surprise Me
5. Drill It Up
Onwards To The Wall will be released February 6 on CD/12″/Digital formats.
A Place To Bury Strangers will bring their senses-stunning live show back to the UK in spring 2012. Dates to be announced in due course…
http://www.aplacetoburystrangers.com/
http://www.facebook.com/aplacetoburystrangers