A Chat With Ronny Moorings of Clan of Xymox
aaamusic | On 19, Feb 2012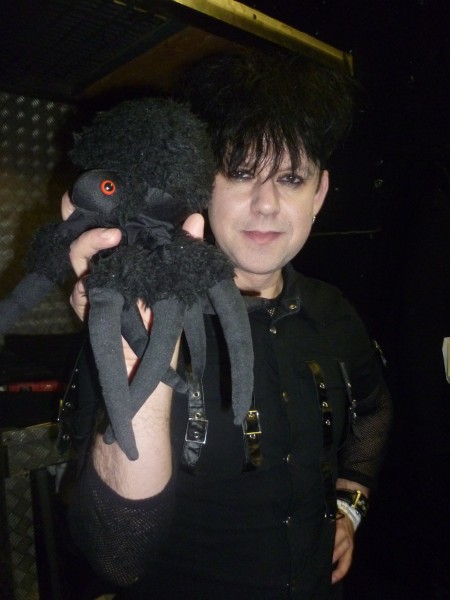 Daniel Cairns meets up with Ronny Moorings and asks him about the past and the future of Clan of Xymox
AAAmusic: The band has been going for a long time and do you miss any of the old
members?
Ronny: Strains on a relationship have meant changes, the band is centred around  me same as 'Trent Reznor' he has to have a live band so he can play concerts, some members want to do things different some get pregnant so changes do have to happen. Some of them yes I miss but most of them no cause they are x-members for a reason.
AAAmusic: How do you think your sound has developed over the years?

Ronny: I always go along with the times every year and it changes things like my perception, things I love and taste in music, export different groups Assembly live musicians make things interesting is always a must. On the third album 'Twisted Shadows' we tried a string quartet but we don't have a big budget like 'Tears for Fears' so some things are out of the question. I do a lot of things at home and on my computer and it makes me more comfortable, I have a space where I go to with no distractions so I can just sit back and work on the songs.
AAAmusic: If you could play in a country you haven't played in what would it be?

Ronny: China, We were meant to tour their actually but things got messed up, problems and shitty conditions meant it got cancelled and we never got to play but if someone would make it possible I would like that very much.
AAAmusic: If they ever made a movie about the band what kind of movie would it be
and why?

Ronny: Not sure if I would want to make a movie about the band but if I did it would be like 24 hour party people but I think that most movies, like this are only touch on 5% truth, I would like to get the real truth out the more juicy story, I wish I could make a movie which shows how things really effect
people.
AAAmusic: What are the next steps for Clan of Xymox?

Ronny: What's next is a Covers Album but I don't want to say much more about that want to leave it as a surprise.
AAAmusic: You are, in some circles credited with inventing darkwave, what do you think of modern darkwave and who stands out to you specifically?

Ronny: I go to many different styles I don't stick to one style, one minute I'll do goth and then it will be something like 'Combichrist' so I go to many genres so don't really know about inventing Darkwave, but I would recommend the new darkwave band 'Veil Vanish' I really like them.
AAAmusic: Will you ever change your hair style?

Ronny: No!!! I have tried a few times but this is the only style that looks good with my face shapes so that why I have this hairstyle, this is my character tried other things but looked in the mirror and did not recognise the person in front of me and made me not feel right, you work really hard to express your character in how you look and this is my character.
AAAmusic: The 'Frozen Autumn' remix of 'There's no Tomorrow' was a dance floor hit. Anymore collaborations or remixes with 'Frozen Autumn' to look forward to?

Ronny: No not at the moment I doesn't really do remixes anymore got bored with them there was a period of time where everyone was doing remixes around me and I think it kinda was a way of not writing more material and getting on with more classic songs for people to listen to. I have done some vocals for friends on their projects but I really want to work on my own stuff
AAAmusic: Back to the Future or Indiana Jones?

Ronny: Wow I don't know about this question. 'Indiana Jones' is just adventure and 'Back to the Future' is time travel and time travel is more interesting so Back to the future interest me more cause if I went back in time I could hit a few people that have pissed me off over the years.
AAAmusic: What's the worst gig you have ever played?

Ronny: Never really had a bad experience, enjoy the small venues 'cause it's really personal and the big crowds are always good like festivals but I do really like the bigger stage which is always very special. Looking out on a festival crowd is quite something to see.
Daniel Cairns