A Chat With Jonny Cola and the A-Grades
aaamusic | On 20, Mar 2012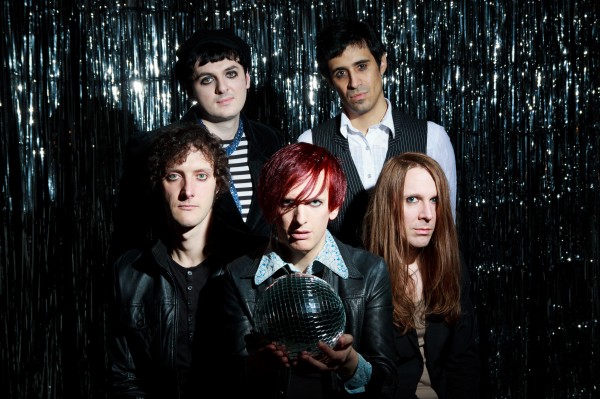 Photos: www.nikkiq.com / www.unit2london.co.uk
Daniel Cairns chats with Jonny Cola and the A-Grades about Menswear and the tightness of silver PVC
AAAmusic: Tell me about the name of the band?  
Jonny – I am Jonny Cola and my band is the A-Grades, I got the name when I  was younger and I used to do music by myself. It was Electro-pop and I had   I used for a while which was 'Charlie Bobbles' which is taken from a 60's   film and then I sort of did not do anything by myself for years then I decided   that I wanted to get a band together. So I thought I kinda event something and   it was like 'Charlie Bobbles' elder brother and the A-Grades I do not know it   just sounds a bit spoddy but it sounds good to use.
AAAmusic: Do you own a 'Menswear' CD and are they a big influence on you? 
Mauro – I think you should talk to him about this, everyone points at Simon.
Simon: Only one out of five of us owns any 'Menswear' and their not a big influence.
Mauro: That is probably that done…
AAAmusic: When is the second album coming out and what is the concert behind it? 
Mauro: Second Album!!! There is the EP coming out, There is no plan for a  second album at the moment, we are doing EP's
Simon: for the forceable future
Mauro: An EP and then probably another EP after this one. And I am presuming  probably get an album out after that, but that will not be to next year
Jonny: We are playing it by ear.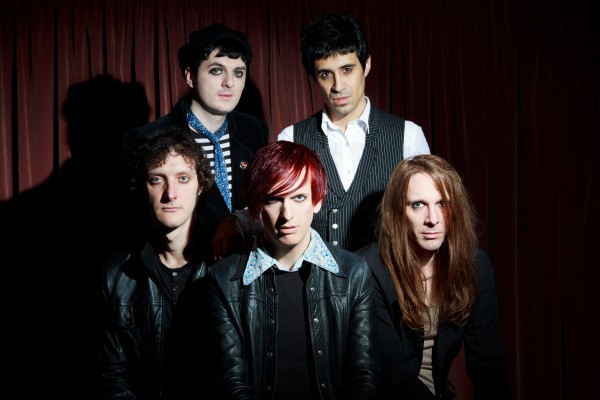 AAAmusic: Glam or Indie? explain Why? 
A-Grades: GLAM!!!!
Jonny: Yeah Glam, but indie in the true sense of the word not in the other   we are better dressed than indie.
Simon: Glam is more exciting
Rest of the A-Grades: Glam
AAAMusic: Are you playing any festivals and are you touring? 
Mauro – We are playing Now We Are Weekender festival that is in the midlands   where is that west Bromwich
Simon: Easter weekend with 'Art Brut' and 'Missy big Adventure' and other bands.
Mauro: So that one should be good, we are doing a mini tour around that time   as well and further tour dates later in the year as well.
AAAmusic: who would you most like to work with? 
Mauro: Bob Ezering, but in the 70's but not now. He produced the old  'Alice Cooper' Albums and a bunch of other things and he made them sound   like a much better band than they actually where so that would be pretty good.
Jonny: Useful would not it
 Mauro: That is what you want a producer to do 
AAAmusic: Who is the sex symbol in the Band?
Mauro – Surly all of us?
A-Grades – Yes all of us!
Simon – It's like spice girls who's your favourite A-Grade, I would either be baby spice or beefy spice.
Mauro – Oh! What would I be Scary of Hypoactive Spice
Jez – I think I would be Posh, well he is Ginger pointing at Jonny Cola
A-Grades – Well Marco you would have to be sporty your the most sporty out of us.
AAAmusic: If your girlfriend is smashing up your record collection and you could only save one record what  would it be? 
Mauro – Oh what a horrible Idea!!! That has pretty upset me, The idea of that!
Jonny – It has not actually happening
Mauro – It might be! I do not know where she is right now!
Simon – Are we allowed to say our own!
AAAmusic: No that is cheating you're not allowed your own Simon! 
A-Grade: ohhhhhh
Jez: 'Dogs D'Amour' bootleg album.
Mauro: 'Manic street Preachers' 'Motown Junk' 12 inch it's worth quite a lot
Simon: Yeah! Yeah!
Marco – 'Blood on the tracks' by 'Bob Dylan'
Jonny – Something by 'Erasure' not 'Abba-Esq' Chorus is very good, maybe  the 12 inch of 'Chorus'  Silver PVC or black Spandex?
Simon – Black Spandex
Jonny – Silver PVC
Mauro – I think we are split on this one I could go either way! depending   what day of the week it was.
Jez – Silver PVC
Marco – Silver PVC
Jonny Cola and the A-Grades are:
Jonny Cola – vocals
Mauro Venegas – guitars & backing vocals
Jez Leather – guitars & backing vocals
Simon Drowner – bass
Marco Testa-Ryan – drums & backing vocals
Daniel Cairns