A Chat With Aborted
aaamusic | On 20, Mar 2012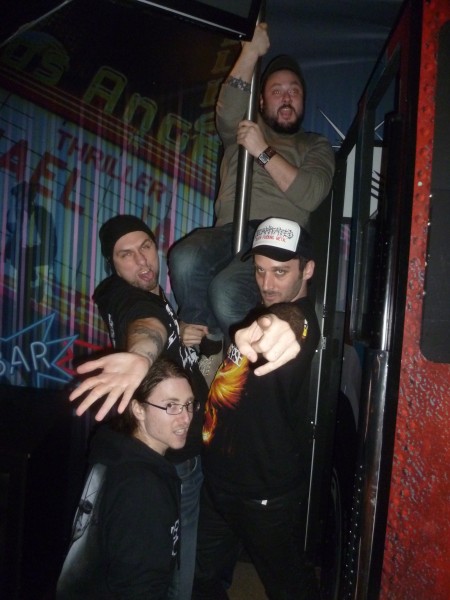 Daniel Cairns chats with Sven and Eran from Aborted about what evil trap they would be and their music.
Sven "Svencho" de Caluwé – lead vocals (1995–present)
Eran Segal – guitar (2009–present)
AAAmusic: Your new album is called 'Global Flatline' is it about the global economy?
Sven: Not really it's just about the end of the world and people dying, everybody dies on the planet it's a pretty misanthropic subject.
Eran: Its death metal it's just the craziest shit you could think of  strike one everyone goes up end of everyone on planet earth.
Sven: And that is what we are going for.
AAAmusic: Where in the world do your band members come from?
Sven: I am from Belgium now live in Israel, he is from Israel now lives in Berlin and one guitarist from Cleveland Ohio and Missouri. I moved to Israel because I know people over there and my family are over there.
AAAmusic: If you could say five bands that are the main influence on you who would they be?
Aborted – I would say 'Carcass, Suffocation, Cannibal Corpse, Morbid Angel and Pantera'.
Sven: I think for everyone it's a personnel choice these bands are Iconic and are bands that influenced generations and generations of musicians.
Eran: I think we you take our generation of musicians which did grow up on like on 'Carcass' and 'Napalm Death' whatever but like on the side stuff like 'Sepultura' or 'Pantera' and like early 'Machine Head' stuff like 'Burn my Eyes' were genres that are only possible to people our age, Bands like 'Dying Fetus' you have those clashes of music that come from different sides of alternative music.
Sven: We listen to more influences than back in the day because there is some interesting music like 'Neurosis' 30th year?
Eran: There is stuff that back in the day you would not hear long droney songs in Death Metal it's something that this time pretty much only allows.
Sven: Cause people are more exposed to different things they used to be.
AAAmusic: How would you describe the music that you make?
Sven: Death Metal, Death Grind and the imaginary being gore.
AAAmusic: How do you select the artwork you want to use for an album?
Sven: We just come up with a concept first. And then Justin Osborne from Slasher did the artwork of the new album and we just brainstormed back and forth how it should look like, every panel and everything and then he just did his thing and we did not have even any comments it just looked perfect, the guy did an amazing job.
Eran: Second time we have worked with him he is Awesome.
Sven: We did tell him that we wanted a gatefold and a poster he did that by himself and the vinyl we put together ourselves with century media he just did the digi pack three panels, which is what the poster is.
AAAMusic: Who was the worst and who was the best band you have toured with?
Aborted: That is not fair, He shall not be named is the worst band!
Sven: I do not know through the years the best band!
Eran: I love Decapitated
Sven: It's really tough I would say 'Black Dahlia Murder' were really amazing we played with them on 'Summer Slaughter' touring with 'Suffocation' was great touring with 'Carcass' was great so many bands it's over sixteen years of Mayhem so many people it's hard just to pick one. 'Black Dahlia Murder' are such fun guys and very good musicians and very tight band there was a great vibe on that whole tour with all the bands.
AAAmusic: If you where a saw trap like in the film, what trap would you be?
Sven: You know that trap that rips the face open I would be that one but on the asshole.
Eran: That is a good question. I would be a big hammer smashing someone's face in. I could think of a few people I would like to put in the saw trap.
Sven: There are quite a few people I would like to put in it but that is not to be enclosed.
Eran: He is trying to get us to tell him shit.
Sven: He is a cheeky little bastard!!!
AAAmuisc: Are you playing any festivals this Year?
Sven: Yeah we are doing Hellfest, Full Force, Brutal Assault and a few more I cannot announce yet. The extreme festivals in Germany, Holland and Austria, there has been a few.
AAAmusic: Can you tell me about the split you did with Exhumed?
Sven: That was a live split actually, It was all live recordings, how f**king old is that, I think that was about eight years ago.
Eran: Yeah that was a pretty cool idea.
Sven: Yeah that was eight or nine years ago cannot really remember exactly it was right after
'Engineering the Dead'. We are still really good friends and they wanted to do a split vinyl with us and that is the thing. We thought it was a good idea because we did not have any new stuff recorded and we did a live recording cause we did not have the money to record new ones just for a vinyl. We played with 'Cannibal Corpse' in France I believe and they just took two songs from that, and 'Exhumed' did the same. We are looking at possibly doing another split EP with 'Misery Index'.
Daniel Cairns