The Vaccines and The Horrors to co-headline new non-profit festival Chazzstock
aaamusic | On 26, Mar 2012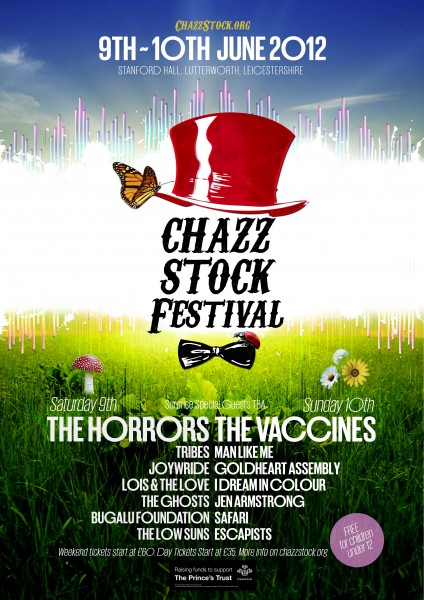 Chazzstock is a non profit festival (all money raised goes towards The Prince's Trust) and has been set up in memory of the talented and much-loved musician Charles Haddon of Ou Est Le Swimming Pool. Charles' tragic death in August 2010, bought his family and friends together to create Charles' dream festival, which will be sutuated in the stately grounds of Stanford Hall, just round the corner from where he grew up.
So far The Vaccines, The Horrors, Tribes, Man Like Me, JoyWride, Goldheart Assembly, Lois & The Love, I Dream In Colour, The Ghosts, Jen Armstrong, Bugalu Foundation, Safari, The Low Suns and Escapists have confirmed to play over the weekend, with many more special guests to be announced other the coming weeks.
Charles' dream was to hold his own festival in his parent's back garden, which he always said he would have named Chazzstock. Now family and friends have banded together to create the perfect festival just as Chazz himself would have seen fit.
Chazzstock have also been inviting unsigned bands to put themselves forward to play at the festival, to encourage and support young and upcoming talent. All proceeds from the festival will go towards The Prince's Trust, a youth charity that helps change young lives.
Ou est le party this summer? Waking up the Leicestershire countryside, in Stanford Hall's treasured stately grounds. Chazzstock… never to be forgotten on 9th and 10th June 2012.
Tickets start at £35 for a day pass. Camping is limited so book now to avoid disappointment. Tickets are available from: www.gigantic.com
For more information on the festival please visit:
www.chazzstock.org
www.facebook.com/chazzstock
https://twitter.com/#!/chazzstock