San Miguel Primavera Sound 2012
aaamusic | On 11, Jun 2012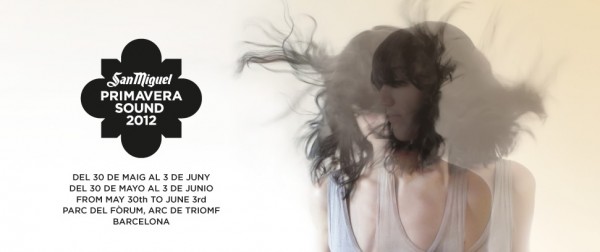 Seven straight years and no sign of giving up. Sometimes I wonder why I have been going to this festival for so long, and I don't deny that the risk of taking it for granted may have come to mind from time to time. Reality, however, lies somewhere else. The quality line up, the care about details, the usually perfect weather and the picturesque location may all play a major part in choosing to spend a few days in Barcelona every May every year. But the truth is the spirit of the fest stays immaculate as years pass, and this definitely is a statement to what the Primavera Sound experience is all about. One to look forward to as months go by.
Thursday, 31st May
Another exceptional sunny day kissed our faces as we warmed up for the inaugural day at the Fòrum. You would tend to imagine a quiet start, yet you could be nowhere further: some of the biggest acts were to set things alight quickly and there was barely room to take some time off for resting – let alone eating – as the afternoon waved goodbye to the blue sky. A brief look at A Storm of Light's doom sounds opened my list, and that was shortly followed by a mid-distance walk to Pitchfork to give my feet – still recovering from a die hard weekend of clubbing in Berlin – some proper test. The stage, set at the bottom of the stairs right under the solar panel, shared room with Vice as both of them looked out to the sea in a 30-second short path, so close it was not rare to be disturbed by each stage's noise. Back to music terms, however, Danish outfit Iceage did little to impress as the band suffered from various technical problems – speaking of which, such incidents on the same stage would be an upsetting refrain throughout the whole weekend – but could not cope with that, especially since the lead singer and guitarist started to play the raged and drugged up punk like he could not give a toss about. Their 25-minute set may have been one of the worst display of the festival as well as the poorest advertisement they could provide to themselves: to mess up such important call should definitely make them think about the next big occasion. And me, I fluffed the chance to go for Archers of Loaf instead. Next on, one of the most awaited comebacks of the year took the San Miguel main stage: The Afghan Whigs played a solid set, kicking off with Crime Scene, Part One and closing with Miles Iz Dead. Fair to say that Greg Dulli looked in great shape as well, with his voice sounding perfectly despite the tons of cigarettes smoked in his various appearances with The Twilight Singers. No time for Grimes though, as she was on at the same time, but this year I opted for full timing sets for the bands I was more interested in watching.
Down to the Ray Ban, my patience for Mazzy Star only lasted for five tunes as Hope Sandoval and her band – another reunited act – looked and sounded well far from enjoying their presence. This sounded even more clear as the songs, despite the inital Blue Flower, failed to produce any enthusiasm and the band were lacking any form of communication between members. Cash thing, anyone? Nevertheless, the ATP was offering the harder sounds of Mudhoney so we moved to the close stage and enjoyed  the Americans' raucous hits played with the enthusiasm of newcomers. As Thursday turned into Friday, the third major reunion landed on the Ray Ban for a wild hour of Scandinavian punk: Refused called a large audience and played a storming set that literally sent the audience nuts, so huge it featured the wildest mosh pit I can recall at any Primavera Sound attended. Tunes like New Noise, Refused Are Fucking Dead and Summerholidays vs Punkroutine went down like real anthems and the band's incredibly tight playing was another proof of the good intentions behind their comeback. The lyrics sounded even more powerful given the current state of the world and the whole atmosphere was a special one: objectively speaking, one of the most powerful and convincing set witnessed, and I am nowhere near the fan status.
A quick dinner got me ready for the final section of the night. First it was Vancouver's Japandroids, whom I preferred to the much loved Spiritualized due to the spectacular new album Celebration Rock. The duo went through some stage problems at the very beginning but raised to perform a sweaty show filled with new gems like Evil's Sway, The Night of Wine and Roses and back catalogue favourites such as Wet Hair and The Boys Are Leaving Town. A full-on adrenaline blast that left small room for either The Field or John Talabot's live shows, much to my own displeasure. Even a let down performance by Rustie and the (usual) poor job by Erol Alkan confirmed that the electronic side of the night was not in full swing, sending us lot back to the metro as the dawn began to rise. But there was enough to save from day one so no one could really complain about the disappointing end.
Friday, 1st June
After indulging way too much at recharging the batteries for day #2, the Fòrum welcomed me just in time to catch the start of a cult band to say the very least, the mighty Chameleons from Greater Manchester claiming their hour of celebrity after being well predated by the likes of Interpol and Editors – who, despite the press throwing easy comparisons with the more famous Joy Division, owe Mark Burgess' band more than you could imagine. So there was justice in the end and the Mancunians looked and sounded well up for celebrating as the sun still hit the Ray Ban terraces. Brilliant renditions of their catalogue pieces such as In Answer and Soul In Isolation won the Brit audience as well as some (nearly) middle aged locals who were to enjoy a long day of dark sounds as The Cure would be on in the next hours. A short walk to the Pitchfork was on the map but Dirty Beaches' greasy sounds really proved to be far from attractive at that stage of the evening; it was never going to be any different with Girls' set on the far far away Mini stage, so at that point a fresh beer in the always comfortable and lovely Pro area by the sea looked like the best option.
Despite the festival being always rich on band clashes, sometimes you may even get the chance of having some spare time you could invest in new discoveries. Right when me and my friend were still enjoying the peace on the beach beds provided, I Break Horses had just kicked off their dreamy set in the close ATP and to this day I haven't figured out yet why I decided to miss what was sounding like the perfect find to come away with. We set for the harder sounds of Harvey Milk and the retro guitar of Lower Dens, playing at the same time on the Vice/Pitchfork stages. Even though both bands did offer some valuable moments, I still think I should have gone for the Swedish duo. No mercy and no time for repentace, though, as one of my festival unmissable acts were to take the scene in the always beautiful Auditori. See, there are certain kind of events that could only take place here or, if this is not the case of one-off shows, you will be dead sure Primavera won't miss the chance of hosting. Big Star's Third is basically an indie music collective featuring Big Star's only surviving member, drummer Jody Stephens, and part time members Jon Auer and Ken Stringfellow from The Posies, the lads who brought the act back on stage in the early Nineties when legendary songwriter Alex Chilton got back to performing shows under his name's band. Big Star played Primavera Sound back on my first visit to the fest back in 2006 and six years later, two after Chilton sadly passed out, the name was back with a truly emotional and impressive show. A silly lot of well known musicians joined the stage to perform the songs of the Third/Sister Lovers album as well as Big Star' and Chris Bell's anthems. You think I'm going too far with this? Here's a short list of some appearances: Norman Blake from Teenage Fanclub, Mike Mills of R.E.M., Robyn Hitchcock, Jeff Tweedy & Pat Sansone from Wilco, Sharon Van Etten, Alexis Taylor from Hot Chip, Ira Kaplan & Georgia Hubley from Yo La Tengo… Not bad, eh? The were not any bad either, in fact this was one of the highest point of the three days. Emotional performances by Sansone on Chris Bell's You And Your Sister and , a fantastic duet between Van Etten and Stringfellow on Dream Lover and a terrific version of Thank You, Friends with all the supergroup onstage, each one singing a line. By then you could really see how big the influence this band has had on loads of younger musicians is. There was still time for a rendition of September Gurls which saw the audience stand up and run down to the first rows to sing and celebrate that special moment close knit with the performers. The proper end to something magic.
Out in the fresh air again, Sleigh Bells were no exception to the annoying poor sounds trend happening at the Pitchfork. They were still capable of delivering their best attitude but it would never be a show to remember for the explained reasons. The short walk to Vice led to some rough minutes of Napalm Death before eventually catching a glimpse of The Cure (100 Years and Disintegration) but the idea od staying never came to mind: who would catch a three hour show mid way into the set? In fact I never considered attending the whole gig. ATP and Codeine were my next stop, one that would not let down as the slow core flavours of the NY city outfit were mesmerizing and suffering at the same time. The final treble of the lot, Washed Up – Cave In & Pea sealed an intense set that was well received by those who decided to skip the stadium-rock live show provided by M83 (it is always about clashes in the end). A walk back to Vice to see The Men's fury was not completely worthwhile as the band put on a solid performance but I kept asking myself why would these guys be so popular? All I needed was a good hour and something of psychedelic gods Death In Vegas, returning to the scenes years after a long pause and delivering a multi-coloured set kicking off with last record's Your Loft My Acid. You could tell the differences between the present show and the past ones as guitars were brought down a bit both in efficiency and in loudness, leaving plenty of room to be filled by samples, organs and less common instruments to create a different picture differing from the more traditional space rock experience back in the day. That is what psychedelia is all about and, sticking to this very point, Richard Fearless and his ensemble were convincing enough at handling such shift. Setlist included classics like Aisha, Hands Around My Throat and Dirge, with plenty of groovy and strung out sounds that cooked the brains and left them out of control for long moments. It was enough for the day even though the balearic and pretty sounds of Aeroplane could have done for one last dance. Not tonight, though.
Saturday, 2nd June
The final chapter of yet another successful edition started in a sunny evening as Sleepy Sun played the ATP and reaffirmed that another kind of psychedelic rock is still possible. New Age, She Rex, Wild Machine and Creature were some of the tunes dropped in to showcase the state of their music, and it was good to say the very least. James Ferraro would have been a nice prosecution but as we landed around Pitchfork we were literally left speechless as the lads onstage took the way out leaving a bitter taste in our mouths. Some cold drinks were all you could really go for after this punch in the face. Dinner was on next while a shocking huge mass of people were on the path to Mini for the forthcoming Beach House. I decided to give it a try and see myself what the fuss was about: next thing I remember is me taking the way back after three or four songs, as their rather enchanting but overall heavy-to-stand atmospheres sounded a lot like the same song was on over and over. I headed to Real Estate instead, even though I quickly realised the noise coming from The Olivia Tremor Control was way better and enjoyable and worth more than a simple echo. Time was flying without a reason though, and I planned the rest of the night in order to catch all the bands I was more into seeing, trying to avoid shows splittings.
My second visit to San Miguel main stage was then paid as Saint Etienne were opening the gig with the groove of classic Like A Motorway. It sounded like it could have taken off like I wanted to but the heights would not be many after that. To see a guitarist onstage and never getting to hear a note off the instruments may have played a significant part, but moreover I would just stick to the fact that their minimal gear left very little to a 360° live experience. Even performing Mario's Cafe for the first time in years did not seem to change the inertia: I was not totally won over this time and the party mood did not work too well so I was left thinking about Shellac destroying anything like they always do but.. Hey, sometimes you need to change your routine and I cannot really regret not watching them for the millionth time in a row. I walked down to the incredible deep bass of Hype Williams warming the Vice stage before eventually ending up in front of an again troubled Pitchfork scenario, this time for The Weeknd. I really felt such technical deficits were terribly affecting the performance so I tried to remain patient knowing that the night would still be long enough. No, Justice live was not my cup of tea then.
A big sense of excitement and anticipation led me to Pitchfork as Washed Out took the stage to give a large audience their sundazed and chillwave tunes. There always is something lacking with these projects rich on studio production effects hard to replicate onstage and, to cut it short, they made no exception under this point of view. Still, there was enough to enjoy despite the usual annoying technical problems: you could seriously lose yourself into the dreamy textures of pieces like Hold Out, Before and the conclusive as well as majestic Eyes Be Closed. Playing in front of the sea made perfect sense this time. A silly long walk to Mini was not tiring at all as LFO launched into an amazing dance show to celebrate Frequencies' 20th anniversary… And it was a party to remember indeed. Wild and obsessive rhythms and the cutting-edge Warp trademark – not to forget the terrific visuals behind him – were the ingredients of a recipe I simply loved every second, and I would have loved to enjoy over and over. Much to my happiness, though, the night was still young so we quickly walked back to Ray Ban as Neon Indian were playing another intriguing and fun show edging towards 4 in the morning. The right attitude and the perfect vibe were all it took to fire things off for the entertaining half an hour we managed to catch: one you just had to live in permanent motion.
There was still a lot going on before the end and you could choose between Numbers showcase at Pitchfork and Scuba at Ray Ban to finish things off with quality dancing. We set for mr Paul Rose, and the nearly two hours set really flew away as he turned the space into an open air club with his dub techno and bass oriented mixture. He started off with trippy records and it was all about the mood, then he gradually kept building the sound with his skillful mixing technique – you could hear Plastikman's Spastik being thrown in for thirty seconds as well as Barker and Baumecker's Candyflip (to testify his special affiliation with Berlin's Berghain and its own label Ostgut Ton) played as two tracks were in the channels already. Scuba's own Adrenalin was then dropped for brief moments before being properly blasted out to an adoring crowd approaching 6am in a beautiful morning, eventually turning a little rainy as the hours went by. The fun, the glory and the final spleen. And that was it for another year.
Daniele Boselli