MARK NORTHFIELD – Alterations
aaamusic | On 01, Jul 2012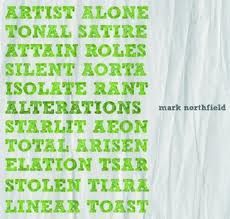 Mark Northfield is a classically trained pianist, arranger and singer songwriter who works as an accompanist for ballet and contemporary dance classes at the London Contemporary Dance School and the Royal Academy Of Dance.
Alterations, released on July 2nd, 2012 on the Substantive Recordings label, is both classical and contemporary in feel and follows his 2008 album Ascendant.
The Death Of Copyright is about the current state of music and has vibrant string arrangements, pianos and a pulsating beat. In Nothing Impossible he sings "what a perfect waste" and expresses the guilt, regret and bitterness he felt when a close friend died from suicide. The Up Shit Creek Blues looks at modern life through a trip-hop beat and a dreamy, lavish party that is gradually decaying. The fine vocals are from Alexandra Howlett. Aurora is a flamenco flavoured number about stolen love, jealousy and revenge in which lead vocalist Bryony Lang captivates.
Alterations is an intriguing, eclectic musical puzzle that is sometimes difficult to grasp. Possibly it isn't something you can listen to easily chronologically, but it can be looked upon as a collection of double A-side singles if you can find the themed links. Impressively avant-garde rock, soul, jazz, funk and classical music are combined with lyrics which are witty, humorous, and mischievous.
There are some excellent compositions and observations about people's lives and circumstances. This is a sharp, complex album which ambitiously improvises and reinterprets. It's a mysterious adventure which stimulates the listener with many ideas over a short time span.
Track list: 1. The Death of Copyright 2. Some Songs…. 3. You Don't Need Me To Tell You That 4. Nothing Impossible 5. Headlonging 6. The Up Shit Creek Blues 7. Reminders, Remind 8. Paradise by Numbers 9. Aurora 10. The Forecaster
Anthony Weightman